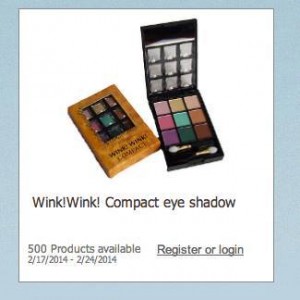 WOW!  If you haven't registered with Toluna yet, they've got a new FREE product testing opportunity!  You can get PAID to test Wink!Wink! Compact eye shadow! This is COMPLETELY legit!  I have completed several product tests including diapers, grocery items, perfume, household products, and more!  It's so fun to be able to test new products before they hit the market!
1.  Click here to register for Toluna–> Wink!Wink! Eye Shadow product testing opportunities (make sure you confirm your e-mail address after you register)
2.  Click on the Rewards Tab at the top and then click on Test Area to apply for this opportunity and to see what other opportunities are available!
Don't forget that if you're a Sam's Club member, you can also get paid to test new products for Sam's Club!
See more online deals here–> Online shopping deals
*This post may contain affiliate links. Please refer to my disclosure policy for more information.