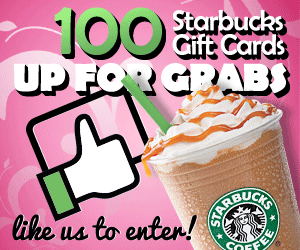 I love the word FREE!  If you haven't signed up for Woman Freebies yet, you're missing out on great FREEBIES delivered straight to your mailbox!  In addition to all the other great freebies they have, right now they are also giving away 100 FREE Starbucks gift cards!
Here's how you can grab this freebie for yourself:
1. Sign up for Woman Freebies account here (all they need is your first name and e-mail address!)
2. Once you are signed up, click on the link below for the scoop on how you can enter to win!
Win 100 free Starbucks gift cards
Don't worry – I've been signed up with Woman Freebies for awhile now and I don't get any spam.  I just get great offers a few times each week!  Let me know if you win!
(Thanks Shore Savings with Patti!)
*This post may contain affiliate links. Please refer to my disclosure policy for more information