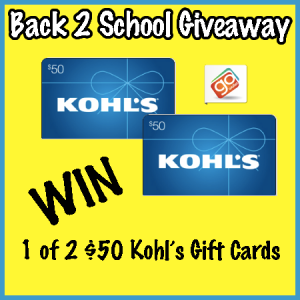 Back to School shopping time is here and we could all use some extra cash!  Right now you can enter to win one of two $50 Kohl's gift cards from GoWallet.com!   If you're not familiar with GoWallet.com, it's an app that you can access online or via your Smartphone to store all of your gift cards!  All you have to do is show your app at the register in your favorite store and they'll scan it for you!  I discovered a stash of gift cards last week and spent close to an hour online and on the phone trying to check balances and write them all down and then my wallet was busting with them!  With this easy to use app, you never have to worry about checking balances again!  You don't have to worry about losing the gift cards, either!
Here's how it works:
Enter your gift card in the application (4 digit code protected).
Select the card to use and click Redeem.
Use the card and watch it automatically update in your app!
To enter to win, just complete the easy Rafflecopter entries below:
a Rafflecopter giveaway
DISCLOSURE: I was not compensated for this post in any way. This post may contain affiliate links. Please refer to my disclosure policy for additional information.