If you're a Biggest Loser fan, you may have seen where they calculate the contestants "real" age. If you've wondered what YOUR real age is, now you can find out!  Take the 
RealAge Test for FREE
and find out your REAL AGE
!  
It's created by top doctors and will give you personalized tips and action plans to GET HEALTHIER and GROW YOUNGER!
Click here to find out your results–> RealAge Test for FREE!
Here are my results: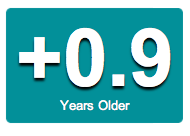 It was a bit discouraging, but I guess it could be worse.  I definitely need to work on eating better and exercising more!
See all my current freebie posts here–> Freebies
*This post may contain affiliate links. Please refer to my disclosure policy for more information