I love Mondays because there are always new deals to share that didn't get covered in my weekly match-ups!  This week at Walgreens, you can get CHEAP Children's Advil and if you missed out on the cheap Cottonelle a few weeks ago, you can get some of that, too!  (even if you didn't miss out, I'm a firm believer that you can never have too much toilet paper)  Make sure you check out the rest of the weekly deals and scenarios here.
Here's the breakdown on the Cottonelle deal:
Buy 1 Cottonelle – $5
Use $1/1 Walgreens Cottonelle coupon from the August monthly book (these can be found at the front of the store by the ads in most stores)
$.50/1 Cottonelle – 7-17 SS, 8-14 SS
Spend $3.50 OOP!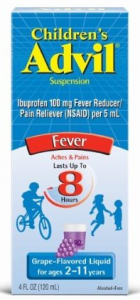 Advil products are BOGO 50% off this week, too!  This includes the Children's and Infant varieties!  You can score the Children's Advil for as low as $1.24 each or the Infant drops for as low as $.12 each after coupons!
Here's the breakdown on these two deals:
Buy 2 Children's Advil – $6.99
-$3.49 (BOGO 50% off promotion)
–$2 Advil printable (you will need two) – this will deduct $4
–$2 Children's Advil coupon from the Walgreens Infant Care booklet – if you don't have the booklet, use the code 5520 – this will deduct $4
Spend $2.49 OOP ($1.24/each!)
Buy 2 Advil Infant drops – $5.49 each
-$2.75 (BOGO 50% off promotion)
–$2 Advil printable (you will need two) – this will deduct $4
–$2 Children's Advil coupon from the Walgreens Infant Care booklet – if you don't have the booklet, use the code 5520 – this will deduct $4
Spend $.23 OOP ($.12/each)
(Thanks Save the Coupons and Save More, Share More!)
*This post may contain affiliate links. Please refer to my disclosure policy for more information