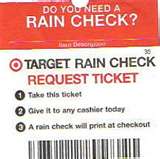 Last week, I wrote a post and asked the question:  Is TLC's Extreme Couponing ruining it for legit couponers?  Many people responded that their stores were cracking down on coupon usage, but the next biggest complaint was that people are having a hard time finding products because the shelves in their stores are always cleared.
When there's a hot promotion in my area and I'm unable to find what I'm looking for, I will typically first try to price match at Walmart.  Sometimes I don't have time to make an extra trip, though, and sometimes my Walmart is out of the items I'm looking for.  \
A raincheck is a great resource if an item you're looking for is out of stock!  It allows you to "save the price" so to speak when hot sale items are out of stock.
How to request a raincheck:
Talk to the cashier or visit the customer service desk and let them know that you would like a raincheck (at my drug stores, the cashiers can typically issue the rainchecks, but at my grocery stores, I typically have to go to customer service).  Not all stores offer rainchecks, but most of them do, and it never hurts to ask!
Tips:
-If you are asked about the quantity, always get a raincheck for the greatest quantity!
-Once you have your raincheck, cut out the portion of the ad that refers to the item and attach it to your raincheck for future reference.
-Check expiration dates.  Some rainchecks have an expiration date.  Others do not.  If your raincheck has an expiration, date, make sure you use it before it expires!

*This post may contain affiliate links. Please refer to my disclosure policy for more information