This is a Sponsored post written by me on behalf of Biz Stain Fighter. All opinions are 100% mine.
I've got two kids and a dog, so I've dealt with my share of tough stains ranging from grass stains from playing hard and outdoor sports, paint stains from school art projects, food spills, and doggy accidents. I was recently provided with Biz Stain Fighter to try out against some of our toughest stains!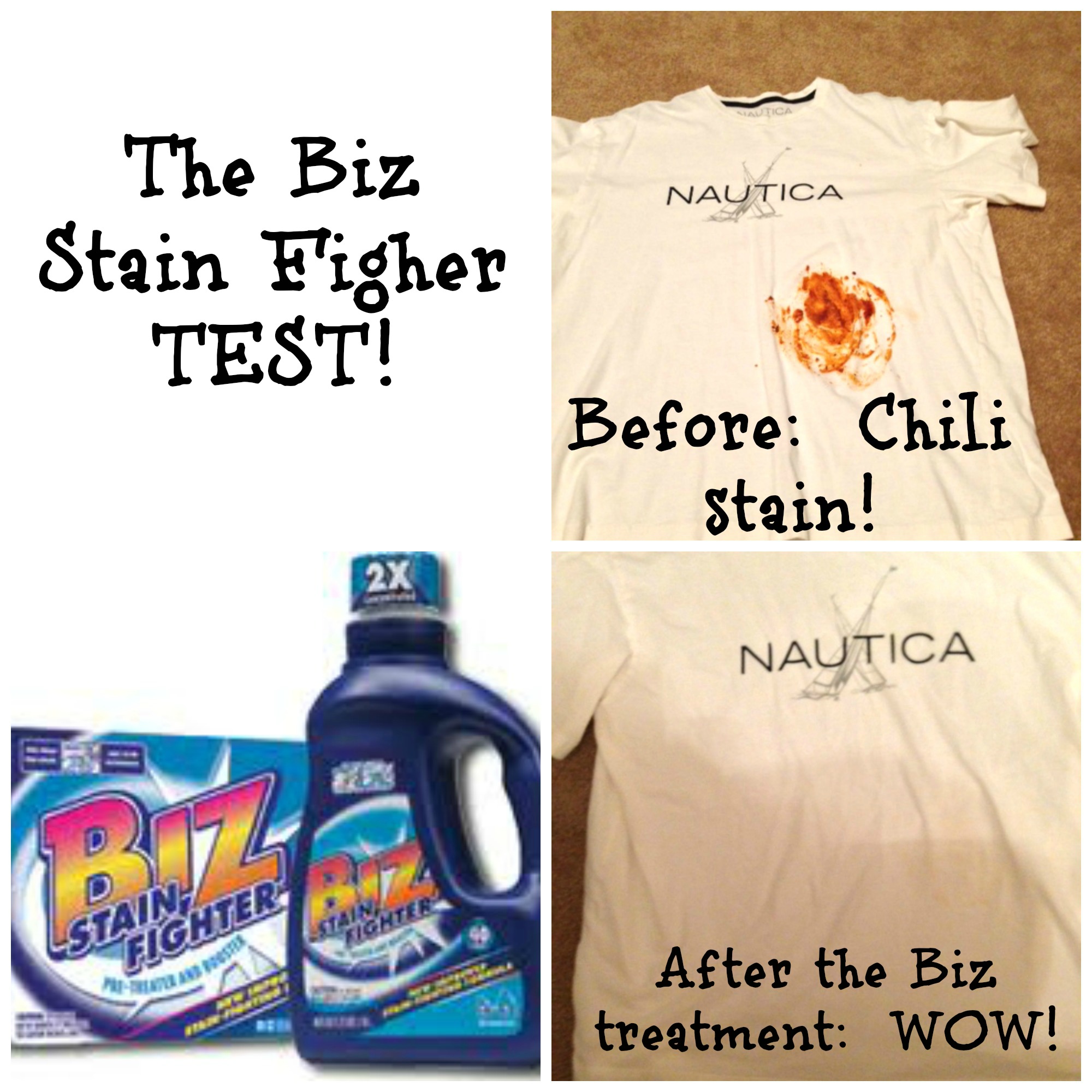 This chili stain seemed like a perfect test case! Using Biz Stain Fighter is super easy! Pre-treat the stain by adding some Biz Stain Fighter and warm water. Let it sit for 15-30 minutes. Then, add it to your load of laundry with some additional Biz as a detergent booster, and you're ready to go! I'll be honest. Even though I had heard great things about Biz from friends, I was a bit skeptical. I've tried other stain fighters in the past on some tough stains and have always been able to see the stain after washing, even if I have treated it multiple times. We've had to get rid of many favorite shirts in this house because we weren't able to get stains out. I was SHOCKED when I saw the results after using Biz on one of the toughest stains I've come across! It definitely works and I'll be using it on our tough stains from now on!
Biz can also be used on more than your laundry stains! You can use it as a household cleaner to address some of my least favorite areas to clean: bathtubs, kitchen sinks, and even toilets! I haven't tried that yet, but the tub my kids use is going to be my next text case!
To find out more about how Biz works, check out this video here:
You can also get a $1 off coupon to try Biz yourself: $1 Biz coupon
To find out more about Biz and hot Biz promotions, make sure you like Biz on Facebook and follow @BizStainFighter on Twitter!