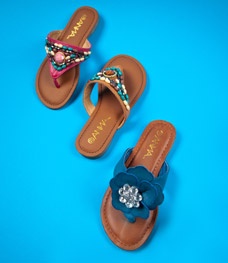 Don't miss out on these awesome Totsy Blow-Out sales! They've got lots of great items to choose from, but my two favorites are the Youngland girls dresses, which start at just $7 and the sandals, which start at $4.25! In Texas, I'm lucky and I can wear sandals and flip flops for about 9 months out of the year, so I'm always in the market for deals. They've got kids pajamas for just $4.50, too!
Here are some of the deals you can score: aren't they cute?
When my daughter was younger, I always thought Youngland girls dresses were so cute! I was sad when she outgrew them!
It's hard to find deals on kids PJs. They've got over 80 different styles to choose from for infants, toddlers, and kids and prices start at $4.50! These WILL sell out quickly!
Get 10% off your total purchase when you enter the code COUPONCABIN at check-out or $15 off a purchase of $60 or more when you enter the code VIPMOM at check-out. Get FREE SHIPPING if you just registered with Totsy and make a purchase within 30 days. Shipping is also free when you spend $75 or more.
*This post may contain affiliate links. Please refer to my disclosure policy for more information.