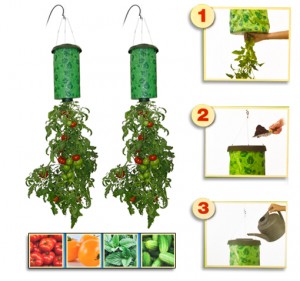 If you've been wanting to check out the Topsy Turvey Tomato Planters, today only, you can get them from 1SaleADay for just $2.50 each shipped!  My sister has one and she has gotten lots of great looking tomatoes from hers!  I love that you don't have to worry about the space and upkeep that you do with an actual garden!  This come with two planters, so you can keep both of them for yourself or share one with a friend!
The most ingenious invention for growing tomatoes is now available! Because it's upside down, the gravity pulls the water and nutrients directly from the root to the fruit. Simple to set up and maintain, just place any tomato plant in the planter, add potting soil, hang it up and water.
Click here to grab this deal–> Topsy Turvey Tomato Planters sale
Want to get it for FREE?
If you're new to ShopAtHome.com and you shop by clicking on the blue Shop Now button, you'll get a $5 cash back bonus, which will make this free!   Click here to take advantage of this promotion–> Topsy Turvey Tomato Planters FREE after cash back 
Grows delicious and juicy tomatoes all season long
Hangs on deck, balcony, or patio
Eliminates weeding, caging, and staking
Great for growing organic vegetables
Uses gravity as a vertical growing advantage
Vertical grow bag heats the plant like a greenhouse
Swivel top for easy turning
Uses ordinary potting soil (seeds and soil not included)
UV-resistant durable materials built to last for years
Includes 2x bonus tomato slicing tools
Package Includes:
2x Topsy Turvy Upside Down Tomato Planters, 2x Tomato Slicing Tools, 2x Recipe Guides
*This post may contain affiliate links. Please refer to my disclosure policy for more information