Here's a round up of the top Walgreens Deals for the week of 3/17!  If you are new to shopping at Walgreens, make sure you check out my tips for shopping at Walgreens here-> Tips for shopping at Walgreens
FREEBIES: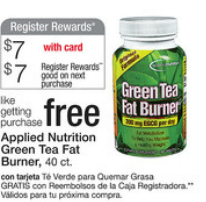 Buy Applied Nutrition Green Tea Fat Burner (40 ct) – $7, get a $7 RR
Final Price = FREE after RR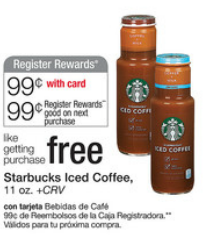 Buy Starbucks Iced Coffee (11 oz) – $.99, get a $1 RR (typically when there is a $.99 RR offer, you receive $1 back)
Final Price = FREE after RR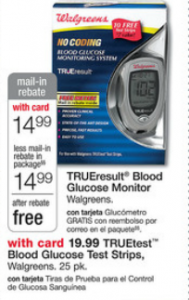 Buy TRUEresult Blood Glucose Meter – $14.99
Submit Mail in Rebate form from Package
Final Price = FREE after rebate

Buy 3 Hallmark cards, get 1,000 Balance Rewards Points
$2/3 Hallmark cards printable
Final Price = $.97 after coupon and FREE after Balance Rewards points (when you buy cards priced at $.99 each)
BALANCE REWARDS POINTS: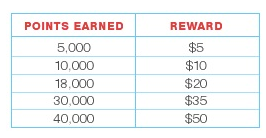 Earn Balance Rewards Points for purchasing participating items using your Walgreens Balance Rewards card.  You can get one for FREE in store!
If you use Balance Rewards Points to purchase other items that earn Balance Rewards Points, you will not receive Balance Rewards Points
If you use Balance Rewards Points to purchase items that earn Register Rewards, you should earn your Register Rewards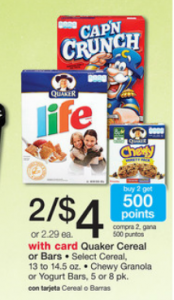 Buy Quaker Cereal (13-14.5 oz) or Quaker Chewy Granola bars (5-8 ct) – 2/$4, get 500 Balance Rewards Points
$1/2 Quaker product – February 2013 All You Magazine
20% cash back from Endorse ($.60) **Available coupons will change on Thursday, 3/21
Final Price = 2/$1.90 after coupons, cash back and Balance Rewards Points ($.95 each)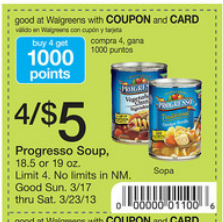 Buy Progresso soup (18.5-19 oz) – 4/$5, get 1,000 Balance Rewards Points
Final Price = $1 each after Balance Rewards Points (when you buy 4)

Buy 3 Hallmark cards, get 1,000 Balance Rewards Points
$2/3 Hallmark cards printable
Final Price = $.97 after coupon and FREE after Balance Rewards points (when you buy cards priced at $.99 each)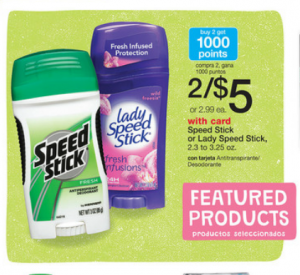 Buy Speed Stick or Lady Speech Stick – 2/$5, get 1,000 Balance Rewards Points
BOGO free Speed Stick or Lady Speed Stick – 3-10 SS
Final Price = $1.25 each after coupon ($.75 each after Balance Rewards Points)
FILLER ITEMS: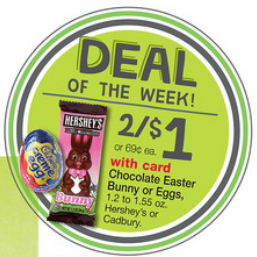 Buy Hershey's or Cadbury Chocolate Easter Bunny or Eggs – 2/$1
Novelty Easter candy – $.39 each
Easter grass – 2/$1 w/ in ad coupon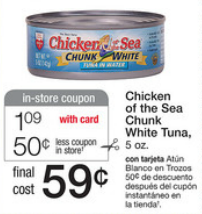 Chicken of the Sea Chunk White Tuna – $1.09
$.50/1 Chicken of the Sea Tuna Walgreens coupon from the monthly coupon book found by the ads in most stores
Final Price = $.59 after coupon
OTHER DEALS: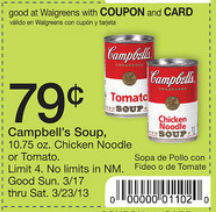 Buy Campbell's Soup (10.75 oz) – Chicken Noodle or Tomato – $.79 w/ in ad coupon
$1/5 Campbell's Condensed soups
Final Price = $.59 each with coupons (when you buy 5)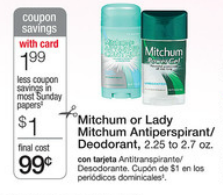 Buy Mitchum or Lady Mitchum Antiperspirant/Deodorant – $1.99
$1/1 Mitchum deodorant (sort by personal care)
$1/1 Mitchum – 3-17 SS
Final Price = $.99 each after coupon
Here's a newbie scenario to get you started: $8.96 in merchandise for $5.46 OOP, 2,000 Balance Rewards Points
TRANSACTION #1:
Buy Speed Stick or Lady Speech Stick – 2/$5, get 1,000 Balance Rewards Points
Buy Starbucks Iced Coffee (11 oz) – $.99, get a $1 RR 
-BOGO free Speed Stick or Lady Speed Stick – 3-10 SS
Spend $3.49 OOP, get a $1 RR and 1,000 Balance Rewards Points
TRANSACTION #2:
Buy 3 Hallmark cards – $.99 each
-$1 Starbucks RR
Spend $1.97 OOP, get 1,000 Balance Rewards Points
Check out Walgreens Coupon policy here–> Walgreens coupon policy here
See more Walgreens deals here–> Walgreens deals
*This post may contain affiliate links. Please refer to my disclosure policy for more information