It's another great week at Target!  Here's the most updated free and under $1 deals list!
Make sure you sign up with Shopkick to earn free Target gift cards!  Earn points for walking in to your store and scanning items at your local store.  Find out more about Shopkick here–>  Shopkick Registration
You can also get a FREE $2 Target gift card from Shopkick–> Free Target gift card from Shopkick
Find out how I scored 5 boxes of cereal for free at Target thanks to Shopkick here–> How I Shop for Free at Target

It's summer, which means I like to eat LOTS of salad! This week at Target you can score FREE Wishbone Salad Dressing!
Here's the breakdown on the deal:
Wish-bone Dressing (8 oz) – $1 (on price cut through 6/15)
–$.75/2 Wish-Bone salad dressings Target coupon
-5% Off Wishbone Salad Dressing Target Cartwheel coupon (deducts $.05)
-$.70/1 Wish-Bone Dressing Product 5-19 RP
Final Price = FREE after coupon when you buy 2 and stack the Target and manufacturer's coupons
UNDER $1 DEALS:
Activia Yogurt (4 ct) – $1.99    
$1/1 Activia – 5-19 SS
Final Price = $.99 each after coupon
Benadryl Itch Stick – $2.39
-2/1 Benadryl Topical Product – 4-7 RP
Final Price = $.39 each after coupon
Buy 2 CoverGirl Eye Shadow – $3.14 each
$2/2 Target Mobile coupon (text SUMMER TO 827438)
$3/2 CoverGirl coupon – 5-12 PG insert
Final Price = $.64 each after stacked coupons
Nestle Drumsticks (4 ct) – $3.29
$.50/1 Nestle Drumsticks Target printable coupon
$2/1 Nestle Drumsticks printable coupon (when you complete the activity)
Final Price = $.79 per box after stacked coupons
Sure Deodorant – $1.97   
$1/1 Sure deodorant – 5-12 SS
Final Price = $.97 each after coupon
Tai Pei Asian Garden Entree – $2.29
$.75/1 Tai Pei Asian Garden entree Target printable coupon
$1/1 Tai Pei Asian Garden entree printable coupon
Final Price = $.54 each after stacked coupons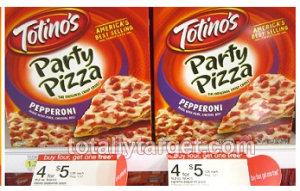 Totino's Pizzas:  Buy 4, get 1 free – 4/$5 – Buy 5 pizzas total
–$1/3 Totino's Pizza coupon
Final Price = $4.00 for 5 after coupons and store promotion ($.80 cents each)
Tums Refreshers (25 ct) – $2.36
$1/1 Tums Refreshers Target Mobile Coupon
$1/1 Tums Refreshers printable coupon
Final Price = $.36 each after stacked coupons
Buy 2 Up & Up Baby Hair & Body Wash –  $1.47 each  
$2/2 Up & Up baby toiletries Target printable coupon
Final Price = $.47 each after coupon
Up & Up Bandages – $1.39   
$.50/1 Target First-Aid printable coupon
Final Price = $.89 each after coupon
Buy 2 Up & Up Hair Detangler – $1.57  
$2/2 Up & Up baby toiletries Target printable coupon
Final Price = $.57 each after coupon
Up & Up Hydrogen Peroxide (16 oz) – $.52   
$.50/1 Target First-Aid printable coupon
Final Price = $.02 each after coupon
Up & Up Make-Up Pencil Sharpener $1.67   
$1/1 Target Cosmetic Accessory printable coupon
Final Price = $.67 each after coupon
Up & Up Compact Wedges $1.87    
$1/1 Target Cosmetic Accessory printable coupon
Final Price = $.87 each after coupon
See my current Target deals here–> Target Deals
See more printable coupons here–> Printable coupons
(Thanks Totally Target and All Things Target!)
*This post may contain affiliate links. Please refer to my disclosure policy for more information