The reviewer has been compensated in the form of a Best Buy Gift Card and/or received the product/service at a reduced price or for free.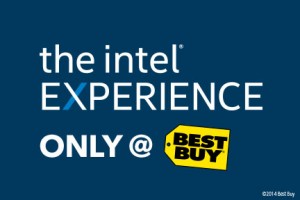 While most (79%) of Americans are excited about the chance to learn and try out new technologies, half are frustrated by the lack of access to them beyond what they read or see in the media, according to a new study by Intel and Toluna.  That's the reason why Intel and Best Buy are now teaming up to bring new Intel Technology Experience zones to 50 Best Buy stores in major markets across the U.S. The Intel Technology Experience lets customers – from tech enthusiasts (my hubby) to technophobes (me)– play, explore, and be inspired by the power of technology with hands-on activities like 3D printing and virtual reality games. For many, this is the first opportunity to see, touch, and play with exciting new technologies they've only heard about.
Averaging 240 square feet, the Intel Technology Experience shows customers the power of Intel: the technology behind these new, innovative activities is the same power behind the devices like tablets and laptops we love and rely on every day. Customers can build and print their own 3D robot, show off their racing skills on Mars in an augmented reality world, master beats and remix tracks by Ne-Yo as a digital DJ, and check out the latest PC and tablet devices powered by Intel processors.
The area is staffed by specially trained Best Buy Blue Shirts to answer questions and help customers make the most of each area within the experience.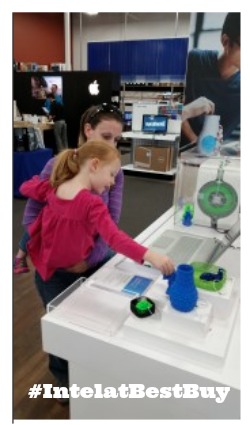 We had the opportunity to check-out the Intel Experience Zone this past weekend and our absolute favorite part was the 3-D printer.  We were able to design a robot and then watch the printer make it.  My youngest could have stood and watched the printer going all day long.  There were also samples of vases and bracelets that others had made with the printer that we had fun looking at and playing with while we were waiting.  Outside of this, I'm not sure we ever would have seen a 3-D printer up close like that.

My husband who loves, loves, loves technology spent most of his time in the augmented reality zone, where you can test drive a Mars Rover.  He just kept saying how impressed he was with the technology behind it.
We could have spent hours there as there were so many games to play and things to do and I definitely walked way with a better understanding of the new technology that is out there.
Each season, Intel will refresh the venues with a new array of technology experiences.  I can't wait to check back and see what new things they will have in the future!
For more information about the Intel Technology Experience areas, including a list of stores, visit www.bestbuy.com/intel.