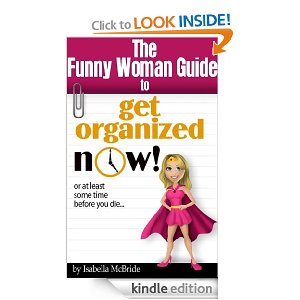 Organization is something that I continually struggle with.  Today's Kindle freebie sounds like it's perfect for me because it's a book about organization written by someone who struggles to be organized!  In other words, someone who understands where I'm coming from!  In reading the reviews, it sounds like it's pretty funny, too!
• Do you have hostility towards your laundry?
• Do you feel like you are drowning in a sea of clutter?
• Are you sick and tired of "trying" to get organized?

Finally, a book written on how to get organized written by an expert–an expert in disorganization.
Click here to grab this freebie for yourself–> The Funny Woman Guide to Get Organized Now FREE for Kindle
Don't have a Kindle yet?  Get a Kindle Fire for just $159 shipped!  Click here to get yours–> Kindle Fire for $159 shipped
Find more free Kindle downloads here–> 100 Free Kindle downloads
If you don't have a Kindle yet, you can still read for free on your PC, Smartphone, or tablet with these free Kindle reading apps here–> FREE Kindle reading apps 
NOTE: This book was free at the time of this posting.  Pricing on Amazon can chance at any time. Please verify final pricing before downloading this item.
See more Amazon deals here–> Amazon deals
*This post may contain affiliate links. Please refer to my disclosure policy for more information