Now that you have filed your taxes for the year, you definitely deserve a reward!  Here is a round-up of some of the freebies you can get on Tax Day, April 15th.
If you haven't filed your taxes yet, don't panic, here are two ways you can file for free online:
Turbo Tax
– I have been using Turbo Tax to do my own taxes for several years now.  I'm not an accountant, but they make it pretty painless because they walk you through everything step by step and even offer audit protection!  Click here to file using Turbo Tax-> 
File taxes for free with Turbo Tax
TaxACT
– TaxACT has come highly recommended by readers, but I haven't tried it myself.  Check it out for free here–> 
File taxes for free with TaxACT
Here are some restaurant freebies: it's always a good idea to call first to make sure your location is participating!
This is NOT a freebie, but I'm probably more excited about this one than any of the others: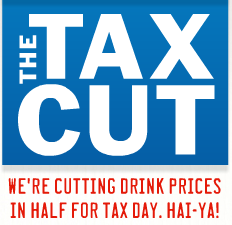 Sonic Drive-In – Drink prices will be cut in half for the ENTIRE day!  Celebrate HAPPY HOUR all day long!  I can't wait!
If you know of any other Tax Day freebies, let me know!
See all my current freebie posts here–> Freebies
*This post may contain affiliate links. Please refer to my disclosure policy for more information