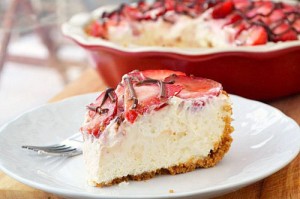 This one goes out to my husband, the man who loves any and all kinds of pie!  If given the chance, he would probably eat the whole thing in one sitting.  Too bad he has a mean wife that won't let him do that.  There are two things that I love about this pie.  First is how easy it is to make.  Second is how versatile it is.  If you aren't in the mood for strawberries you could use peaches or bananas or any other fruit you want. Thanks Just Putzing!
Here's what you need to make this:
(Crust)
– 1-1/2 cups graham cracker crumbs (About 9 full/long crackers — just throw them in a gallon bag, zip, and crush with a rolling pin.)
 – 5 tbsp butter, melted
(Filling) 
– 2 8oz blocks of cream cheese, room temperature
– 2 cups heavy cream + 1 tbsp
 – 2/3 cups sugar
– 2 tsp vanilla extract
– 1 carton strawberries, sliced into thirds or halves
– 1/2 cup chocolate chips (optional)
**If you choose to use a store bought crust, then either half the filling recipe or be prepared to use two crusts.  Store bought crusts tend to be smaller than traditional pie dishes.
Here's how to make it -> Strawberries and Cream Pie Tutorial