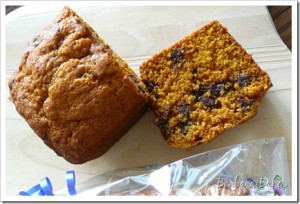 I love when fall rolls around and I finally get to bust out all of my yummy pumpkin recipes.  These are some of my husband's favorite desserts, but it just doesn't feel right to make them in the middle of summer so he just has to patiently wait for the temperatures to drop every year to enjoy them.  If you've never tried it before, pumpkin chocolate chip bread is so delicious!
Here is what you need to make Pumpkin Chocolate Chip Bread:
3 cups all-purpose flour
1 tsp pumpkin pie spice
2 tsp ground cinnamon
1/2 tsp salt
1 tsp baking soda
1/2 tsp baking powder
1 cup butter, soften
2 cups granulated sugar
3 large eggs
1 16 oz can of pure pumpkin
1 1/2 cup chocolate chips
Here is how to make it -> Tutorial for making Pumpkpin Chocolate Chip Bread
Tip: Sometimes I opt to make muffins instead of bread because it is easier for me to pack in the kid's lunches that way.  To make muffins or mini muffins, you follow the directions the same as if you were making bread, but you just cut the time in half for muffins and subtract another 10 minutes or so off of that for mini muffins.
(Thanks to Barbara Bakes for the image and recipe!)