I'm LOVING all of the Target deals that keep popping up this week!
Sign up with Shopkick to earn free Target gift cards!  Earn points for walking in to your store and scanning items at your local store.  Find out more about Shopkick here–>  Shopkick Registration
Find out how I scored 5 boxes of cereal for free at Target last week thanks to Shopkick here–> How I Shop for Free at Target
FREEBIES: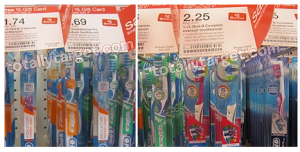 Buy 4 Oral B Indicator Toothbrushes – $1.74 each
-2 $1/2 Oral B Indicator toothbrushes – 3-3 PG
Spend $4.96 OOP, get a $5 Target gift card!
Final Price = $.04 moneymaker after coupons and gift card!
NOTE:  I always keep a gift card on hand to "roll" into deals like this one!
Bounce Dryer Sheets (34 ct) – $1.97
$3/3 Tide Detergent, Tide Boost, Downy, or Bounce Product, exp. 3/31/13 (P&G 03/03/13)
$3/3 Laundry Care Items Target coupon, exp. 4/6/13 (SS 03/03/13)
Final Price = FREE after coupon!
Neutrogena Facial Bar Soaps – $2.09
-$5/2 Neutrogena from 2/24 SS (exp 4/27)
Final Price = 2 for FREE after coupon!
UNDER $1 DEALS: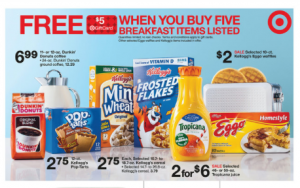 If you missed the cereal deal at Target a few weeks ago, here's another deal on cereal and other breakfast items like Pop Tarts and Eggo waffles that you can score!  Get Pop Tarts as low as $.85 per box!  Details and match-ups are here–> Target Breakfast Items sale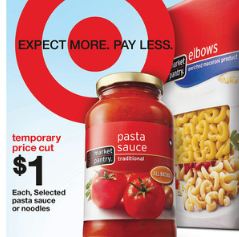 Buy 2 Market Pantry Pasta Sauces- price cut $1
$1.50/2 Market Pantry sauce Target coupon
Final Price = $.25 per jar after coupon
Buy 3 Market Pantry Pasta – $1 each
$1.00/3 Market Pantry pasta Target coupon
Final Price = $.67 each after coupon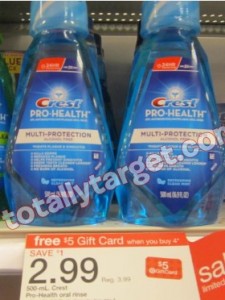 Buy 4 Crest Rinse – $2.99 each
-4 $1/1 Crest Rinse 458 ml from 3-3-13 PG (exp. 03/31)
Spend $7.96 OOP, get a $5 Target gift card
Final Price = $2.96 after coupons and gift card ($.74 each)
Reach Floss $ .90
$1.00 off any two (2) REACH Floss Products
Final Price = $ .40 each when you buy 2
Here are a few other deals that are worth checking out:
You can score a SWEET deal on Huggies diapers and wipes with this 
$2 off Huggies diapers and wipes at Target coupon.
Here's the breakdown on this deal:
Buy Huggies Snug and Dry Diapers – $8.99
Buy Huggies Wipes 56 ct. – $1.97
–$2 off Huggies Diapers AND Wipes from Target coupon
–$3/1 Huggies Diapers Coupon
–.50/1 Huggies Wipes Coupon
Final Price = $5.46 for diapers and wipes!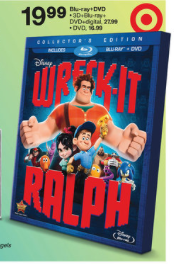 You can also get the Wreck it Ralph Blu Ray Combo Pack for just $12.99 after coupon!  If your store is sold out, get a rain check or price match at Walmart!
Wreck it Ralph Blu Ray/DVD combo – $19.99
–$7 off Wreck it Ralph Blu Ray combo pack
Final Price = $12.99 after coupon
See my current Target deals here–> Target Deals
See more printable coupons here–> Printable coupons
(Thanks Totally Target!)
*This post may contain affiliate links. Please refer to my disclosure policy for more information