It's another great week at Target!
Make sure you sign up with Shopkick to earn free Target gift cards!  Earn points for walking in to your store and scanning items at your local store.  Find out more about Shopkick here–>  Shopkick Registration
Find out how I scored 5 boxes of cereal for free at Target last week thanks to Shopkick here–> How I Shop for Free at Target
FREEBIES: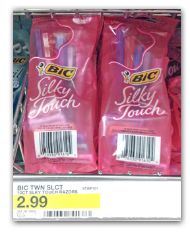 Bic Silky Touch Razors (10ct) – $2.99
$3/1 Bic Disposable Razor – 3-17 SS
Final Price = FREE after coupon
Bounce Dryer Sheets (34 ct) – $1.97
$3/3 Tide Detergent, Tide Boost, Downy, or Bounce Product, exp. 3/31/13 (P&G 03/03/13)
$3/3 Laundry Care Items Target coupon, exp. 4/6/13 (SS 03/03/13)
Final Price = FREE after coupon!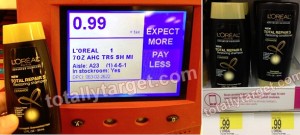 Loreal Advanced Hair Care Trial Size, (1.7o oz) – $.99
$1.00/1 Loreal Advanced Hair Care – 2-17 RP
$1.00/1 Loreal Product Coupon
Final Price = FREE after coupon!
Neutrogena Facial Bar Soaps – $2.09
-$5/2 Neutrogena from 2/24 SS (exp 4/27)
Final Price = 2 for FREE after coupon!
Poise Cooling Wipes, Panty Fresheners, or Feminine Wash – $2.99 – $3.49
-$3/1 Poise Feminine Care Item – 3-10 SS
*Cooling Gel, Towelettes, Personal Lubricant, Panty Fresheners or Feminine Wash
-$3/1 Poise Feminine Wellness Product 2-10 SS
Final Price = FREE after coupons
Up & Up Ibuprofen Tablets (24 ct) – $.97-$1.19
$2.00/2 Up & Up Pain Relief Items, excludes trial/travel size, Target Coupon from Shopkick app
$1.00/2 Up & Up Pain Relief Items Target printable
Final Price = possibly 2 free after Shopkick coupon

Buy 2 NeilMed products, get a $5 Target gift card
Buy 2 NeilMed Dry Noses – $6.99 each
-2 $5/1 ClearCanal or any NeilMed Brand Item 2-17-13 RP
Spend $3.98 OOP, get a $5 Target gift card
Final Price = $1.02 moneymaker after coupons and gift card (I always keep a $5 Target gift card on hand to make the most of deals like this one!)
UNDER $1 DEALS:
Buy Garnier Shampoo or Conditioner – $2.99
$1/1 Garnier Fructis Shampoo or conditioner coupon
$1/1 Garnier Fructis Target coupon
Final Price = $.99 after stacked coupons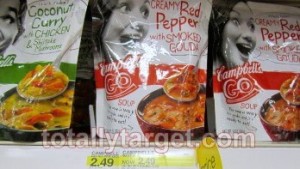 Campbell's Go Soup $2.49
$1/1 Campbell's Go Soup coupon
$1/1 Campbell's GO Soup 14 oz Target Store coupon
Final Price = $.49 after stacked coupons
Market Pantry Frozen Vegetables Select Varieties (16 oz) – $.92-$1.09
$.75/2 Market Pantry or Archer Farms Frozen Vegetable Items Mobile Coupon
Final Price = as low as $.55 each after coupon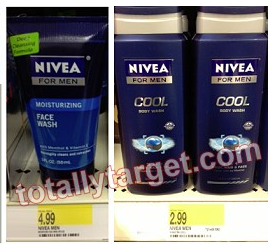 Buy one Nivea for Men Gel Face Wash – $4.99
–$2.00/1 Nivea Target Coupon
–$2.00/1 Nivea Men's Face Care Product
Final Price = $.99 each after stacked coupons
Nivea for Men Body Wash for Men or Women (16.9 oz) – $2.99
–$1/1 Nivea body wash Target Coupon
-$1/1 Nivea Body Wash, Shower Gel or Lathering Body Scrub 12-16.9oz 3-10-13 SS
–$1/1 Nivea Men Body Wash 16.9 oz
Final Price = $.99 each after stacked coupons
OTHER DEALS: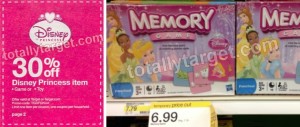 Disney Princess Memory Game – $6.99
-30% off Disney Princess Game or Toy Target in-ad coupon (will deduct $2.09)
–$3 off Hasbro Candy Land, Chutes and Ladders, Cootie or Memory Game coupon
Final Price = $1.90 after stacked coupons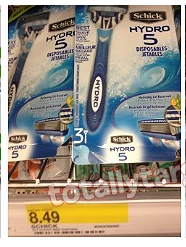 Schick Hydro 5 Disposable Razors (3 ct) –  $8.49
–$3/1 Schick Hydro razors Target coupon
-$4/1 Schick Hydro 5 – 2-24 SS
Final Price = $1.49 after stacked coupons ($.50 per razor)
Buy 2 Schick Hydro Silk Razors – $7.99
-2 $4/1 Schick Hydro Silk Razor or Refill 2-24-13 SS
Spend $7.98 OOP, get a $5 Target gift card
Final Price = $2.98 after coupons and gift card ($1.49 each)
See my current Target deals here–> Target Deals
See more printable coupons here–> Printable coupons
(Thanks Totally Target!)
*This post may contain affiliate links. Please refer to my disclosure policy for more information