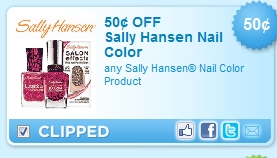 I love, love, love wearing flip flops and sandals!  I think that one of the "perks" of living in Texas is that I'm able to wear them for about nine months out of the year!  Because I love wearing flip flops and sandals all the time, I also have a need for deals on nail polish.
Right now, you can get a bottle of Sally Hansen nail polish for just $.54 after coupons!
Here's the breakdown of the deal:
Buy Sally Hansen Nail polish – $2.04
Use $.50/1 Sally Hansen manufacturer's printable (use zip code 90210 and sort by personal care)
Use $1/1 Target Sally Hansen nail care items printable
Spend $.54 OOP!
If you're new to couponing, some stores (Target is one of them) allow you to use one manufacturer's coupon and one store coupon per item.  To learn more about "stacking" and how it works, check out this post here.
(Thanks Totally Target!)
*This post may contain affiliate links. Please refer to my disclosure policy for more information.