This post contains affiliate links. Please refer to my disclosure policy for more information.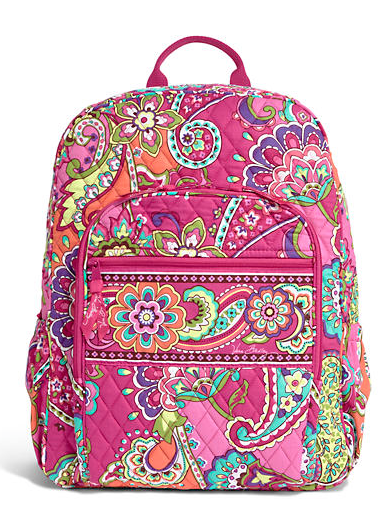 I am INCREDIBLY excited about this Vera Bradley backpack sale!  My daughter starts junior high this fall and wanted a Vera Bradley backpack.  I figured it would be out of the question, but I scored big time this morning!  Prices start at $31.20 and these backpacks are regularly $78-$109.  This is our first Vera Bradley backpack, so I can't speak personally to quality, but I have heard from friends that they could potentially hold up for several years.  As an added bonus, you can get free shipping today and tomorrow!  These will sell out quickly, so shop early for the best deals!
Click here to check it out–> Vera Bradley Backpack Sale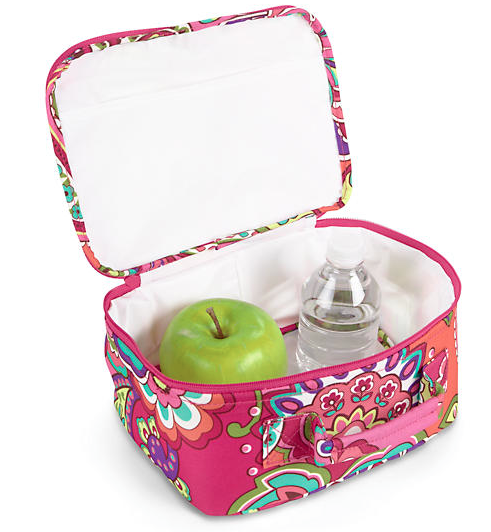 They've got Vera Bradley lunch totes on sale, too, and prices start at $11.20 (regularly $28).  They've got several different styles to choose from and the sale prices do not show up until you click on individual styles.  Click here to check it out–> Vera Bradley lunch totes
They've got TONS of other items on sale for up to 60% off regular retail prices.  You'll be able to score great deals on purses, accessories, and more!  Check out all the sale items here–> Vera Bradley 60% off sale
Take advantage of these combined promotions:
Free shipping (no minimum purchase requirements) through 7/12
Free Tote in a Pouch with purchase of $75+ (this is BEFORE any discounts)
60% off sale
Check out what I scored: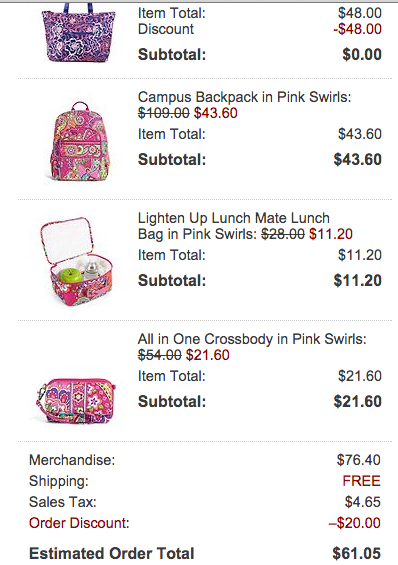 I was able to get my daughter a backpack and lunch bag plus a purse and a tote for $61.05 shipped!  The purse and the tote will be Christmas gifts, so I'm even more excited because now I've got a jump start on Christmas shopping!  The $20 off coupon was from an e-mail, so make sure you check your e-mails to see if you have one!