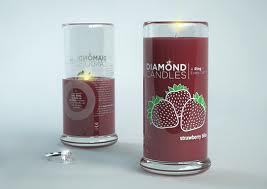 I just got my first Diamond Candle from the Plum District deal I posted about last week yesterday.  I haven't found my ring yet, but I'm so excited to check it out!  Several other readers have already received theirs and have commented that these candles burn for a long time and the scents are not overpowering.  I ordered the Honeydew Melon the first time, but this time around, I'm thinking I'll get the Apple Slices.  These would be great gifts, too!
If you're not familiar with Diamond candles, every single one of these earth-friendly, all-natural candles has a ring inside worth $10, $100, $1,000 or $5,000!

The candles come in fun, yummy flavors like Apple Slice, Carnival Candy, Chocolate Truffle, Cinnamon Roll, Cupcake, Gingerbread Latte, Honeydew Melon, Lavender Lemon, Strawberry Bliss, Tropical Retreat, Vanilla Cream and more. 

Here's how you can take advantage of this deal:
1.  Sign up for Half Off Depot here–> Half Off Depot Registration
2.  Once registered, search for Diamond Candles and click on the green "Buy Now" button
3.  You will receive a redemption code by e-mail.  Enter the code here and follow the instructions to redeem your code–> Half Off Depot Redemption
What scent are you going to get?
*This post may contain affiliate links. Please refer to my disclosure policy for more information