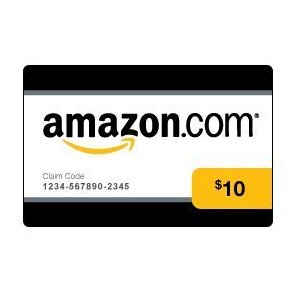 If you've been reading my blog for long, then you know that I ? Amazon!  I buy everything from grocery items (cereal, drinks, pasta sauce, cracks, and other snacks) to batteries, Pull-Ups, toilet paper, razors, laundry detergent, books, movies, and more from them!  Taking advantage of Amazon deals and using gift cards I've earned to pay for them has really helped us to cut our budget!
If you're wanting to cut your budget and looking for more ways to earn Amazon cards, here are six "legit" ways I've found to earn Amazon gift cards!
1.  Change jar ~ Since we use cash only, last year, my husband and I decided to start achange jar where we would keep all of the change we earned from purchases.  We were very surprised that we accumulated almost $200 last year by doing this!  Part of it went to help pay for a family vacation we took last summer.  The rest of it was "cashed in" for Amazon gift cards to buy Christmas gifts.  When you visit a Coinstar machine, you have the option of "cashing out" but then you have to pay 9.8 cents per dollar. They also have an option where you can get "free coin counting" if you opt for a gift card or gift certificate instead. Amazon is one of the choices and the e-certificates you get for Amazon never expire! They also offer gift cards for Albertson's, Borders, Cabela's, CVS, Eddie Bauer, iTunes, JC Penney, Lowe's, Old Navy, Overstock.com, Regal Entertainment Group, and Starbucks.  Our change jar that we started again in January is now full, so I'll be cashing it in sometime this week.  I'll let you know how it turns out!
2.  E-Poll ~ Epoll.com is a survey site that I have been with for several years now.  The surveys are typically fairly easy and usually relate to TV shows.  I usually get 2-3 surveys each month.  You earn points for completing the surveys which can then be exchanged for gift cards to Amazon and a number of other retailers including Best Buy, Target, Home Depot, and Red Lobster.  They also have surveys for kids in the 2-5 year age group and the 6+ age group.  I've started getting more surveys now that my kids are older!

3.  My Points – My Points is an easy way to earn gift cards for Amazon or a number of other retailers.  All you have to do is read the e-mails they send,  shop through links on their site, or submit Bzz Agent reports.  I've been with them for several years now (I can't remember when I started!) and I've earned many gift cards just by reading the e-mails and submitting my Bzz Agent reports.
4.  Opinion Outpost ~ Opinion Outpost is another survey site, and my personal favorite!  They will send you links when you potentially qualify for a survey.  Complete the screener and if you qualify, you will be able to complete a longer survery and earn points. You earn points for completing surveys and for every 50 "opinion points" you earn, you can choose to cash out for a check, a $5 Amazon gift card, a $50 Restaurant.com gift card, or a $5 Citibank pre-paid credit card.  I joined last March and earned $272 just for completing surveys throughout the year last year!  You can learn more about Opinion Outpost here.

5.  Swagbucks ~ Swagbucks is one of my favorite "rewards" sites.  You earn points just for searching the web, which is something you do are probably doing on a daily basis anyway!  You can find out more about Swagbucks here.
6.  Crowdtap ~ Crowdtap is my newest "find"  I just signed up a few weeks ago.  In addition to earning gift cards, you can also try out new products for FREE! Some of their recent products have come from Old Navy, Vermont Teddy Bear, and Playtex. Plus, you can sign up to host "House Parties." You can also donate to charities, which makes it even better in my opinion. Some of the charities you can choose from include the Susan G. Komen Breast Cancer Foundation, Autism Speaks, the American Red Cross, and the American Society for Prevention of Cruelty for Animals.  I haven't earned a lot from them yet, but I'm having fun with their discussions and Quick Hits!
Also, check with your bank to find out if they offer rewards if you use your debit card.  We recently found out that we were earning points from our bank for using our debit card and one of the participating retailers that we can cash out for gift cards with is Amazon!
By doing these simple things, you'll be well on your way to cutting your budget on household expenses or funding your 100% cash Christmas!

*This post may contain affiliate links. Please refer to my disclosure policy for more information.