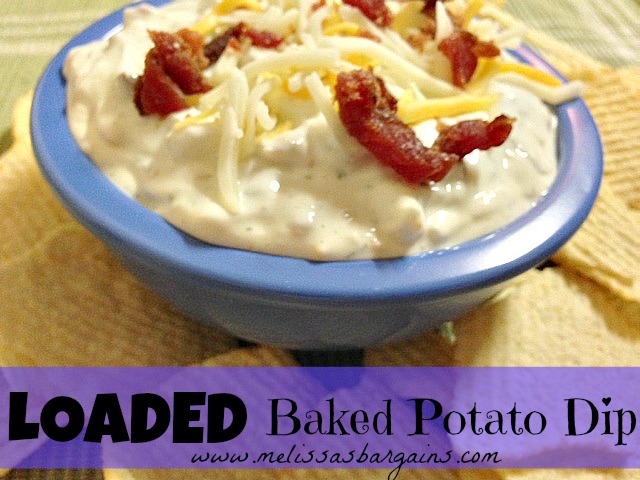 If you need a new recipe idea for game day or for a potluck or get together, this is IT! This LOADED Baked Potato Dip Recipe was a huge hit with my family. My plan was to let everyone taste it to make sure it was OK and then refrigerate it for an hour or so. We never made it that far. My taste testers all loved it and couldn't stop after the taste testing started!
Make sure you also follow my favorite recipes board on Pinterest–> Melissa's Bargains Favorite Recipes on Pinterest
LOADED Baked Potato Dip Recipe
Author:
Melissa's Bargains
The yummy taste of a fully loaded baked potato in a dip! One taste is definitely not enough!
Ingredients
16 ounce tub of sour cream (I used reduced fat)
2 ounces cream cheese (I used ⅓ less fat)
Crumbled Real Bacon Pieces
2 T Ranch dip seasoning packet
¼ cup shredded cheddar cheese
Baked Ruffles or your favorite potato chip
Instructions
Using a hand mixer, mix the sour cream and cream cheese together until smooth and well blended.
Add in 2 T of Ranch dip seasoning and mix well.
Add crumbled bacon pieces (you can cook bacon and crumble it or buy it already crumbled) and shredded cheese.
Mix all ingredients well. Top with bacon pieces and cheddar cheese.
Refrigerate for one hour (If your family doesn't catch on and start eating it first)
Serve with Baked Ruffles or your favorite potato chip (that's where the "potato" part comes in)
Adapted from this recipe by Brown Eyed Baker.