My kids are still experiencing post-Halloween sugar highs so I just can't bring myself to make them any of the amazingly cute Thanksgving treats out there.  Luckily, I have found some really cute "healthy" Thanksgiving snack/treat ideas that I am sure will still put them in the Thanksgiving spirit, without all that sugar.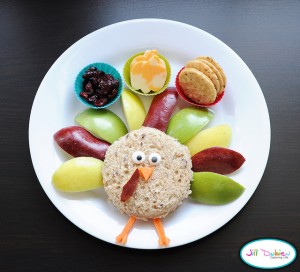 One of my favorites it the above pictured Turkey sandwich.  How cute is that?!  This would make a really cute lunch or even an afterschool snack.  Thanks Meet The Dubiens!
Here's all you need to make this Turkey Sandwich:
Sandwich cut into circle shape
Icing eyes
carrot for nose and feet,
red apple skin for the waddle
sliced green, yellow, and red apples for the feathers
Here's how to make it -> Turkey Sandwich Tutorial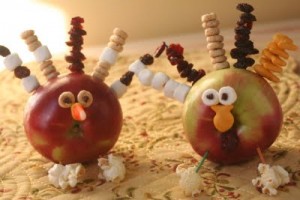 Speaking of snacks, how about these Turkey Apples?  What a wonderful way to get your child's creative juices flowing!  Using whatever you happen to have in your pantry, your child can design his own turkey, complete with feathers.  When we make these, I think I will probably have to make one too.  They just look so fun!  Thanks for the idea Little Page Turners!
Here's how to make your own -> Turkey Apples Tutorial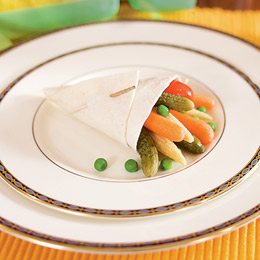 This last snack idea is one of my all time favorites simply because it is a way to get kids to eat vegetables, but in a fun and creative way.  My kids are much more likely to eat all their veggies if they  have a hand in making the dish.  If your kids are really averse to vegetables then you could always substitue it with fruit.  Don't forget to talk with your children about the use and meanining of a cornucopia as they build their very own.  Thanks Family Fun!
Here's what you need to make this:
Tortillas
Toothpicks
Small veggies — we suggest peas, baby carrots, baby corn ears, grape
Tomatoes, and cornichons (or any small pickle)
Dip or dressing
Here's how to make it -> Cute Cornucopia Tutorial 
You'll find more kid friendly healthy Thanksgiving treats here–> Kid Friendly Healthy Thanksgiving Treats