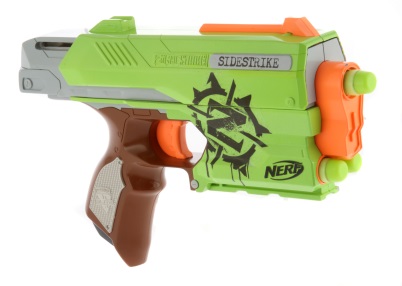 Hasbro recently provided me with an opportunity to review the new Nerf Zombie Sidestrike Blaster.  I have a seven year old son who was more than willing to take on the challenge!  When the box arrived, my son was so excited that within seconds, he had it out of the packaging and was ready to go!  Suddenly, darts were flying everywhere and my son was excitedly saying "Mom, this is the best day ever!"  I wish I had captured it on video because it was so cute!
Nerf Zombie Sidestrike Blaster Review

Whether your child is a "zombie hunter" in the making or just loves a good Nerf gun fight, the Nerf Zombie Sidestrike Blaster is sure to be a hit!  It includes the gun itself, a holster, and 6 darts.  Although the suggested age range starts at 8, my son just turned 7 and had no problem figuring out how to use this with no help at all!  My son is a lefty, and was able to easily use this, which was a plus for us!
My husband and kids had a Nerf war using the the Nerf Zombie Sidestrike Blaster, Nerf N-Strike Elite Strongarm Blaster, and Nerf Rebelle Heartbreaker bow.  They had a blast!  My husband commented about how far the Nerf Zombie Sidestride Blaster shoots (their website says that it shoots up to 75 feet – we didn't test that distance out, but wow!) and about how accurate it is.  I caught him online searching for a Nerf gun for himself and I couldn't help but smile!  My dad came over last night and joined in on the fun, too!  The kids thought it was fun to see Grandpa playing!  I even tried it out, and it's fun to shoot and packs a punch!  Zombies beware!
Here are some of the things that we love about the Nerf Zombie Sidestrike Blaster:
It includes a dart storage compartment, so you don't have to worry about losing your darts!
The price is reasonable!  It retails for $14.99, but it's even less on Amazon!
It's easy for kids to grip and use!
It shoots far and the accuracy is great!
The only "con" we could think of is that it is a single shot product, so it does take time to reload in between shots.
This would be GREAT for Easter baskets or an upcoming birthday!  You can purchase one here–> Nerf Zomebie Sidestrike Blaster
There are some other great products in the Nerf Zombie line that you should check out, too:
DISCLOSURE:  I was provided with a free Nerf Zombie Sidestroke Blaster for review.  All opinions shared in this post are 100% mine!