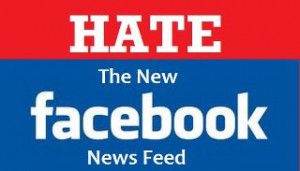 About a month ago, I started hearing what I thought were "rumors" about the Facebook reach for "business pages" dwindling to zero.  If you don't know what "reach" is, it tells you how many people Facebook shows any given post to.  My reach has steadily been going down for the past six months, but for some reason I thought I had already hit rock bottom.  I didn't realize how wrong I was….

Starting last Wednesday, fewer than 100 readers were seeing most of my posts.  It didn't matter what I posted…pictures, questions, posts with links, posts without links.  All of them were getting about the same reach.
For comparison purposes, here's what my reach looked like the day before this happened:

No worries, though.  For a mere $200 for ONE post, I can have all of my readers view my posts: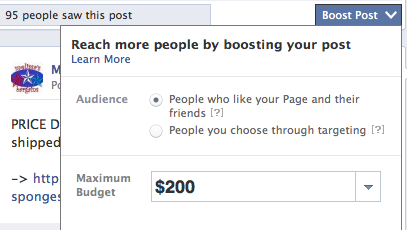 Unfortunately, I don't have $200 to spend per post and I have actually spent hundreds of dollars already this year to try out Facebook advertising and have not seen results.

I actually paid to promote this post on Facebook.  After almost 12 hours, I have less reach than I was getting less than a week ago and most of it is "paid reach."  So sadly, it just doesn't work.
So…there you have it.  This is why you won't be seeing me on Facebook anymore.
I would love to continue to share the great deals, funny posts, recipes, and budgeting tips with you, though!
Where you can find Melissa's Bargains
1.  Sign up for my newsletter.  You'll get no spam, I promise!  You WILL get all of my daily posts delivered to your inbox in ONE post per day! Sign up here–> Melissa's Bargains Newsletter (make sure you confirm your subscription)
2.  Follow me on Twitter here–> Melissa's Bargains on Twitter
3.  Follow me on Pinterest here–> Melissa's Bargains on Pinterest (I've got a "Daily Deals" board and a "Favorite Recipes" board that are definitely worth checking out!)
4.  Sign up for my Facebook group.  I know, I know.  Facebook is a dying breed.  But, I am hearing that groups are being "seen" more than pages, so it's worth a shot–> Melissa's Bargains The Group
If you STILL love Facebook, and prefer to "hear" from me there, try this: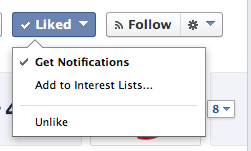 1.  Hover over the "like" button and unlike the page.
2.  "Like" the page again (for some reason when you like a page initially, you see the page more in your feed)
3.  Make sure "Get Notifications" is checked
Thanks so much to all of you for being loyal readers!  I have loved being able to communicate with you for the past 5 1/2 years and I am sad about these new Facebook changes, but I'm not ready to give up yet!  Thanks for your support!