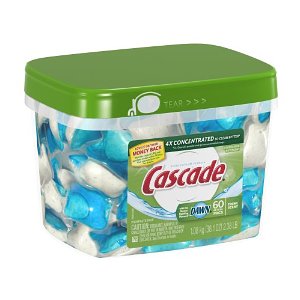 Here's a round-up of the best deals on laundry and dish detergent in stores and online this week!  
AMAZON:  I love getting products from Amazon when I can find deals because they are shipped straight to your home! (no coupons or waiting in line needed!)  Throw in a $5 Amazon gift card that you've earned from Superpoints or Swagbucks, and you've got an even better deal!  I often get these items for FREE using my gift cards I've earned!
Cascade Action Pacs Dishwasher Detergent Fresh Scent (60 ct) –  $9.42 ($.15/each) with Subscribe & Save discount.  Make sure you scroll down and "clip" the $1 off Cascade Action Pacs coupon!  You must be logged in to your Amazon account to access the coupon and the coupon is one time use per account.
Tide Pods Detergent Ocean Mist (77 ct) – $19.22 – This item ships free with Amazon Prime or is eligible for free super saver shipping when you spend $25 or more
CVS: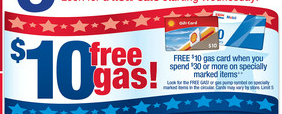 Dawn dish liquid (9-10.3 oz) – $.97
$.25/1 Dawn dish liquid – 7-1 PG
Tide or Gain liquid laundry detergent – $5.97
$1/1 Tide laundry detergent – 7-1 PG
SCENARIO:
Buy 5 Tide laundry detergent – $5.97
Buy 1 Dawn dish liquid – $.97
Use 5 $1 Tide coupons
Use $.25 Dawn coupon
Spend $25.57 OOP, get a $10 gas card
RITE AID:
Cascade Gel (75 oz) or Cascade Complete Action Pacs (16 ct) or Regular (20 ct) – $3.99
$1/1 Cascade – 7-1 PG
Final Price = $2.99
Dawn dishwashing liquid (9 oz) – $.95
$.25/1 Dawn – 7-1 PG
Final Price = $.70 after coupon
Spend $20 on select P&G products, get a $5 +UP Reward
-includes Tide laundry detergent (24-32 loads)
$1/1 Tide laundry detergent – 7-1 PG
SCENARIO:
Buy 4 Tide laundry detergent – $6 each
Use 4 $1/1 Tide laundry detergent coupons
Spend $20 OOP, get a $5 +UP Rewarad
Final Price = $15 after coupons and +UP Reward ($3.75 each)
Buy Downy, Bounce, or Tide products – $5.99, get a $1 +UP Reward
-includes Downy Unstopables (21 load fabric softener liquid), 52-60 load, or 90 ct sheets
-includes Bounce sheets (105 ct)
-includes Tide Stain Release (18 ct)
$1/1 Downy – 7-1 PG
$.50/1 Bounce – 7-1 PG
Final Price = as low as $3.99 after +UP Reward and coupons
TARGET: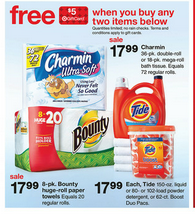 Buy two participating Procter & Gamble products, get a $5 Target gift card
Tide (150 oz liquid or 80-100 load powder) – $17.99
$1/1 Tide – 7-1 PG
Final Price = $28.98 after coupons and gift card when you buy 2 products
WALGREENS:
Bounce or Downy fabric softener – 2/$8
-includes Bounce or Downy sheets (70-80 ct) or Downy liquid (21-40 loads)
$1/1 Downy – 7-1 PG
$.50/1 Bounce – 7-1 PG
Final Price = 2/$6 after coupons ($3 each)
*This post may contain affiliate links. Please refer to my disclosure policy for more information