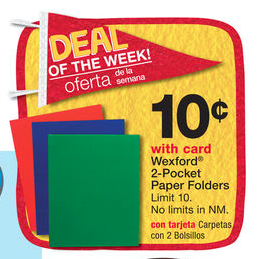 The Deal of the Week at Walgreens is these Wexford 2-pocket folders for $.10 each!  There is a limit of 10 folders per visit.
If the ad specifies that a coupon is needed, you can actually ad the coupons to your card before you go, so you don't have to worry about remembering them in store!  They'll come off automatically at check-out!

Check out all these deals you can score for just $.99!  My daughter loves mechanical pens, so I always stock up at this time of year!
Wexford binders 1″ – $1.99 w/ in ad coupon
Wexford filler paper (130 ct) – $.79
Wexford Highlighter – $.49 w/ in ad coupon
Wexford #2 pencils – $.39 w/ in ad coupon
Wexford school glue – $.39 w/ in ad coupon
Wexford scissors – $.49 w/ in ad coupon
Wexford Sheet protectors (10 ct) – $.49 w/ in ad coupon
Wexford Sticky Notes (50 ct) – 6/$1 w/ in ad coupon
Wexford 1 subject notebook – $.49 w/ in ad coupon
Wexford wooden ruler – 6/$1 w/ in ad coupon
See more Back to School Deals here–> Back to School Deals
Find out when your state is having tax free shopping days here–> Tax Free Shopping 2014