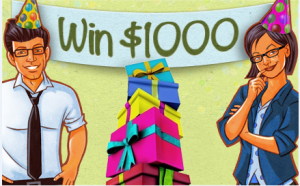 On February 27th, Swagbucks will be celebrating their 4th birthday by giving away $1000 to four lucky people!  If you're not familiar with Swagbucks, you earn Swagbucks for searching online and you can exchange your Swagbucks for gift cards and other prizes.  I use mine for Amazon gift cards and I save them all year to help buy Christmas gifts!
If you're not registered with Swagbucks yet, now is the time to join!  You'll get 140 bonus Swagbucks when you register here–>Swagbucks registration
If you're already registered with Swagbucks (or once you register), make sure you sign up for the birthday bas and enter to win $1000!
Here's how you can enter:
1.  Click here to RSVP for the birthday bash and to choose a team for the 24 hour Challenge that begins on 2/27/12–>Swagbucks Birthday Bash RSVP
2.  Once you're registered for the party, make sure you tweet about it or share it with your friends!
*This post may contain affiliate links. Please refer to my disclosure policy for more information