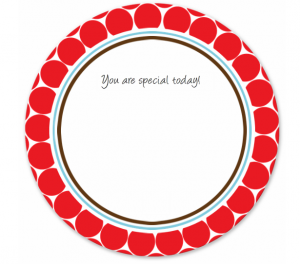 I have great memories of family traditions from my childhood and as we are raising our own family, my husband and I have incorporated some of our favorite traditions into our family, but we're always looking for new traditions, too.  A friend of mine recently shared the "You are special today plate" idea with me and I loved it!  The concept is simple.  You recognize family members for birthdays and special occasions such as doing well on a test or getting a promotion by letting them using the "You are special today plate" at dinner.  This is also a way to cheer a family member up if they're having a bad day or to recognize other accomplishments, especially in children, such as being a good helper or friend.  I absolutely LOVE this idea!
Right now, you can create your own custom photo plate on InkGarden and you'll pay just $9.99!  That's $10 off the regular retail price!  They've got lots of designs to choose from!  If the "You are special today plate" isn't for you, use it to create a special plate for your kids at mealtime!
Click here to make yours–>Custom photo plate for $9.99
Make sure you enter the code PLATEFEB at check-out to get your discount!
*This post may contain affiliate links. Please refer to my disclosure policy for more information