DISCLAIMER: This is a sponsored post on behalf of US Family Guide and ROBOTS-4-U. I received compensation for this post, but all opinions are mine.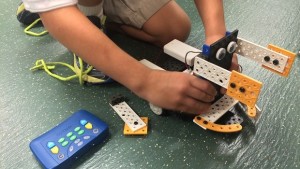 Summer is just around the corner which means that NOW is the time to start thinking about summer camp options for your kids!  If you wait too long, the best deals will fill up and you will miss out on the best deals, too!  If your kids are interested in robotics, I've got an awesome deal for you!  Through March 31st, my readers can save 60% off ROBOTS-4-U Summer camps with code TEX1660M15.
Click here to find out more and to grab your coupon–> ROBOTS-4-U Summer Camp coupon
Choose from one of these four awesome programs:  you can enroll in all of them now!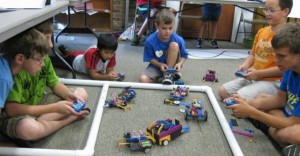 Robotics:  These week long camps teach children basic design, building, programmming, and mechanics and progress through seven increasingly difficult levels.
Dynamic Art:   Dynamic Art is where art and design meet technology and design.  Through this program your child will be given the experience of making moving sculptures.
Drones Program:    Students will be introduced to the world of "flying robots".  Your student will learn navigation and common aerodynamic concepts and technology.  Students will come to understand Bernoulli's principle, the four Forces of Flight, Physics, and how the properties of air affect flight.  Each student will learn to fly their robot and prepare for aerial competitions and skill challenges.
Kids Battle Robots:    If you're interested in a fast-paced and game focused camp, then our Battle Robots camp is for you!  We cover the same basics of design, mechanics, and programming as our Robotics Program, but our focus is on building robots that are specfically designed to compete against those of other campers.  We offer four main types of competition during our Battle Robot camps, as well as an unlimited number of variations on other classics!
Kids will compete in:
Single Combat

Steal the Bacon

Battle Royale (up to 8 robots at a time)

King of the Hill (4-8 robots)
These camps are designed for boys and girls between the ages of 7 to 14.  Robot camps and dynamic art camps are offered during the months of June, July, and August.  Camp runs Monday to Friday from 9-11:30 am or 12:30-3 pm.  The ratios are one instructor to 16 participants.
S.T.E.A.M. education (Science, Technology, Engineering, Art and Math) is the new buzz words and your kids can join in on the fun this summer!