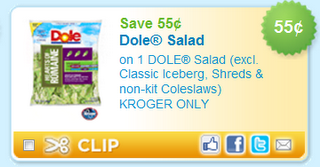 Coupons for produce are hard to come by, so I was excited to see this coupon for $.55/1 Dole salad (it excludes iceberg, shreds, and non-kit coleslaws).  The coupon says "Redeem at Kroger" but it is a manufacturer's coupon, so you should be able to redeem it anywhere.  Print this coupon here!  If you can't find this coupon under your zip code, try 45435.
Also, since it's the last day of the month, you'll want to print all of the other great printables here.  They will either re-set or be gone tomorrow and new coupons will be available!
*This post may contain affiliate links. Please refer to my disclosure policy for more information.