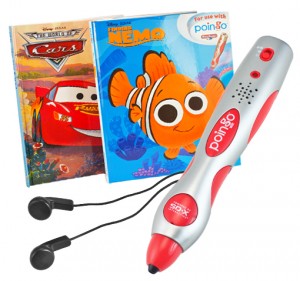 If you've got a road trip planned this summer, keep your kids entertained with this Poingo Point-And-Go Interactive Reader.  It's just $14.99 today only from 1SaleADay and includes 2 interactive story books, ear buds, 20 sing along songs, and a USB cable, too! This is regularly priced at $79.99, so you're saving 82% when you grab this deal!
Your child will love learning how to read with the Poingo Story Reader System! Like a magic wand, the Poingo Pen makes the story come alive with a simple touch! Pointing to the graphics lets kids hear fun facts, jokes, sound effects, and music, while pointing to the colored words let Poingo read a definition.

Each spread page in a Poingo book includes activities to advance learning, like reading comprehension, sound recognition, geography, music, and more. Fun and exciting, the Poingo Story Reader system is a great choice for children who've mastered simple books and are ready to take the next step in their reading adventures.
Click here to grab this deal–> Point Point-And-Go Interactive Reader for $14.99
Here's what's included: 
The point-and-go interactive reader
Move Poingo around the page to hear stories, play games and more
Listen to exciting sounds and music
Learn to read with activities and games
Take Poingo anywhere
The next generation of interactivity made simple
Poingo makes you part of the story
Discover a whole new way to play with the printed page
2 interactive story books
20 sing-along songs
Earbuds
USB cable
2 AAA batteries
For ages 3 +
Package Includes:
Poingo Interactive Reader, 2 Interactive Story Books, 20 Sing-Along Songs, Earbuds, USB Cable, 2 AAA Batteries
NOTE:  A shipping and handling fee of $4.99 also applies.

*This post may contain affiliate links. Please refer to my disclosure policy for more information.