If you missed the Playstation 3 deals on Black Friday and it's still on your "list" here are the best deals I could find on Playstation 3!
Playstation 3 (160 GB) – $249.99 shipped
Here's what's included:
New slimmer and lighter PS3 system with a 160 GB HDD.
Internet-ready built-in Wi-Fi, 2 USB ports and HDMI + Bravia Synch output for 1080p resolution and connectivity between other Sony HDMI products.
Dualshock 3 wireless controller.
AC power cord, AV cable and USB cable.
Free PlayStation Network membership.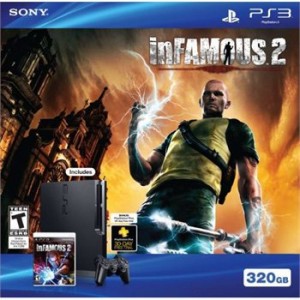 Playstation 3 Infamous Bundle (320 GB) – $299.99 shipped
Here's what's included:
New slimmer and lighter PS3 system with a 320 GB HDD.
Internet-ready built-in Wi-Fi, 2 USB ports and HDMI + Bravia Synch output for 1080p resolution and connectivity between other Sony HDMI products.
Dualshock 3 wireless controller.
AC power cord, AV cable and USB cable.
Infamous 2 game
*This post may contain affiliate links. Please refer to my disclosure policy for more information