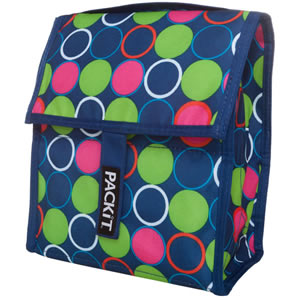 Totsy has a GREAT sale on PackIt Reusable Lunch bags. They are on sale for just $11.95, which is 40% off the regular retail price of $19.99! These do not go on sale very often, and when they do, they usually sell out quickly! They've got 17 different styles to choose from today!
This personal cooler and lunch bag keeps your snacks cold when they need to be thanks to a patented eco-gel liner. Unlike other coolers, PackIt lasts longer—ten hours longer! Forget about bulky ice packs that melt in minutes, just put the PackIt in your freezer until you're ready to use it, then take it out and you're good to go! A sure-fire money-saver, you'll soon find how convenient it is to always have a cool snack or beverage on hand.
Totsy is a members only site. If you haven't signed up yet, you can sign up here to check out all of their deals–>Totsy registration
Hurry and grab these deals before they're gone! They sell out quickly! If you're already registered with Totsy, start shopping here: Totsy sale on PackIt Reusable lunch bags
You'll get FREE SHIPPING if this is your first order! I've got even more great news for you! You can also save $15 off a purchase of $60 or more with the code VIPMOM. Please note: From what I understand, you can no longer combine free shipping on your first purchase with the other codes.
*This post may contain affiliate links. Please refer to my disclosure policy for more information