If you're looking for a deal on a kitchen scale, this is a great deal!  Get this Ozeri Pro Digital Kitchen Scale for just $11.97!  I have found that when trying to figure out portion sizes on my own, I'm often a little too generous. With a kitchen scale, you can figure out exact portion sizes, and you don't have to sit and count items, either.  I love it!
The Ozeri Pro Digital Kitchen Scale in Black is designed for the culinary perfectionist who desires the superior accuracy in function and elegance in form. The Ozeri Pro Digital Kitchen Scale in Black incorporates oversized buttons that generate an audible click confirmation for the fast-paced cook, and an automatic Tare button that quickly calculates the net weight of your ingredients by subtracting the container weight, whether the container is a bowl, tray, plate or anything else. The scale's weighing platform is finished in an elegant chrome color, and has a capacity range from a mere 0.05 ounces to 12 lbs. The scale also displays results in both the US and international metric systems (grams | ounces | pounds | kilograms). The large screen features a new bright LCD with an improved viewing angle for the on-the-go cook. The Ozeri Pro Digital Kitchen Scale in Black also includes a 3 minute automatic turn-off that preserves battery life while giving you time to confirm each measurement (2 AAA batteries included).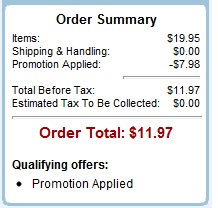 Make sure you enter the code GETFFFIT at check-out to get an additional 40% off, which brings your total to $11.97. Keep in mind that this offer is available for a limited time only. The last time it was available, it sold out quickly!
You can get free super saver shipping when you spend $25 or more or free 2 day shipping with Amazon Prime.  Keep in mind that this promotional code could be discontinued at any time.
To get more for your money with Amazon deals, make sure you're signed up with Superpoints and Swagbucks.  I earn FREE Amazon gift cards from both to help pay for deals like this one!
(Thanks Mojo Savings!)
*This post may contain affiliate links. Please refer to my disclosure policy for more information