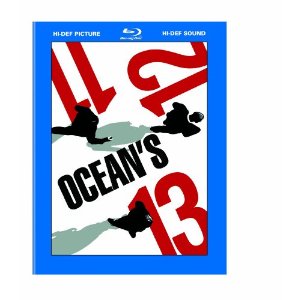 If you're a fan of the Oceans movies, right now, you can get the Ocean's Trilogy on Blu Ray for just $16.99!  That's 53% off the regular price of $35.99.  I'm a huge fan of the Ocean's movies, and I don't own any of them on blu ray yet, so I'm excited to grab this deal!
Click here to grab this deal–>Ocean's Trilogy on Blu Ray for $16.99

Here's what's included:
Oceans 11 (2001) Danny Ocean (George Clooney) likes taking chances. All he asks is that his handpicked squad of 10 grifters and cons play the game like they have nothing to lose. If all goes right, the payoff will be a fat $150 million.
Oceans 12 (2004) They're back. And then some. Twelve is the new eleven when Danny Ocean and pals return in a sequel to the cool caper that saw them pull off a $160 million heist. But $160 million doesn't go as far as it used to. It's time to pull off another stunner of a plan. Exciting locations include Amsterdam, Paris and Rome, the direction again of Steven Soderbergh and the original cast plus Catherine Zeta Jones and others.
Oceans 13 (2007) Danny Ocean rounds up the boys for the most dazzling heist yet, after casino owner Willy Bank (Al Pacino) double-crosses one of the eleven, Reuben Tishkoff (Elliott Gould). George Clooney, Brad Pitt, Matt Damon and more re-team with director Steven Soderbergh for a split-second caper that stacks the deck with wit, style and cool.
You can get free 2 day shipping if you have Amazon Prime or free Super Saver Shipping when you spend $25 or more!

*This post may contain affiliate links. Please refer to my disclosure policy for more information.