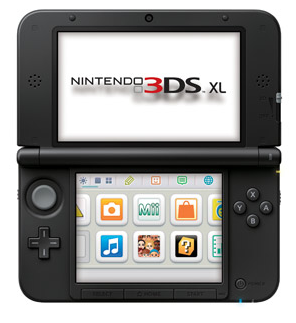 If you've been looking for a deal on a Nintendo 3 DS XL, this is an awesome price!  Get this Nintendo 3 DS Xl for just $149 shipped!  It's available in blue or black.  Use some of those Christmas gift cards to grab this deal or grab it for an upcoming birthday!  Other sites, including Amazon, have this listed at $189 right now!
Click here to get this deal-> Nintendo 3 DS XL
The Nintendo 3DS XL Black/Black system combines next-generation portable gaming with eye-popping 3D visuals without the need for special glasses, giving you a new dimension in entertainment. Take 3D photos or connect to friends and use wireless hot spots with the wireless StreetPass and SpotPass communication modes. From games to photos and beyond, the Nintendo 3DS XL system offers quality 3D entertainment. It comes bundled with a 4GB SD card, making it suitable for downloading content from the Nintendo eShop. The Nintendo 3DS XL console can also play all of the original Nintendo DS games. Nintendo DS games will not appear in 3D.
Next-generation portable game console by Nintendo
Pop-out 3D visuals without the need for special glasses
Capable of taking 3D photos as well as normal photos using either the two outer cameras or the single inner camera
StreetPass and SpotPass for communicating with people on the go or through the Internet
4GB SD card included
Can accept up to a 32 GB SD card
See more online deals here–> Online Shopping deals
*This post may contain affiliate links. Please refer to my disclosure policy for more information