This post contains affiliate links.  Please refer to my disclosure policy for more information.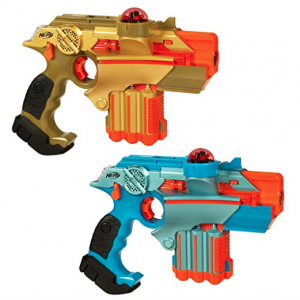 My son LOVES his Nerf guns!  I got him this Nerf Lazer Tag set for his birthday and it was a hit.  Today it's on sale for $44.79, which is 30% off the regular retail price of $63.99.  I grabbed an extra set so he can play with even more friends now!
Click her to check it out–> Sale on Nerf Lazer Tag set
See all of the Amazon Prime Day toy deals here–> Amazon Prime Day toy deals
MULTIPLAYER COMPATIBILTY – The Nerf Lazer Tag Phoenix LTX Tagger is a complete system that features 2 Phoenix LTX Lazer tag blasters for fun, action-packed Lazer battles. All Nerf Lazer Tag Phoenix LTX blasters are compatible and interchangeable so more than 2 players can play at once (additional taggers sold separately). Invite friends to join in multi-player mode and suddenly they are ready to battle with 3-players, 4-players, 5-players, and beyond. Play in teams or one big free-for-all, but remember it's tag or be tagged!

INDOOR AND OUTDOOR BATTLES – The arena can be anywhere with these Nerf Lazer Tag Phoenix LTX blasters so players can battle inside the home or spread out outside for epic match-ups

AWESOME SOUNDS & EFFECTS – Nerf Lazer Tag Phoenix LTX blasters register hits with lights, sounds and vibrations. Get the authentic Lazer combat experience with a recoil every time it's fired, a reactive vibration when you're tagged, fun Lazer shooting sounds, and an awesome ammo reload feature

FUN FOR THE WHOLE FAMILY – Nerf Lazer Tag Phoenix LTX Lazer tag blasters are great for kids, teens, and adults alike. For ages 8 years old and up, different play settings make the game fun and easy for the whole family. Players can set their Lazer tag blasters for 10 or 25 hits before they're out. Set beginners' Lazer tag blasters to 25 and more advanced players' to 10 to even the playing field. These Lazer tag blasters make the best gift for kids (boys and girls), teenagers and adults. Perfect for a birthday, Christmas and other holidays, or any occasion!

CONVENIENT – The Nerf Lazer Tag Phoenix LTX Tagger game is a quality toy that's fun for the whole family. Nerf Lazer Tag Phoenix LTX blasters use a class 1 LED, infrared light. This set requires no vest, pinnies, or ammo. That means no need for cumbersome extra clothing and there are no darts to lose. Players don't have to stop to reload so they can stay in the game and keep in playing. And, as a bonus, no clean up. Get the benefit of our eco-friendly packaging, which ships in simple brown, recyclable package that's easy to open and frustration-free!
See more Prime Day deals here–>Amazon Prime Day Deals
If you haven't already, make sure you sign up for your FREE 30 day Amazon Prime trial! This will give you access to all the exclusive deals on Prime Day!  If you're a student, you'll get a free six month Amazon Prime trial PLUS you'll pay 50% for your Prime membership after that!  Amazon Prime gives you benefits like free 2 day shipping, video and music streaming, photo storage, and more!