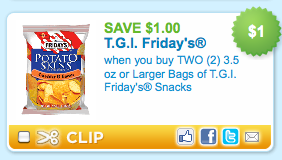 I posted earlier this morning about a HOT printable for Gerber Graduates items here. There are also HOT printables for snack foods!
Right now you can print a coupon for $1 off 2 bags of TGI Friday's snacks here. These go on sale frequently, so you should be able to get a good deal when you combine the coupon with sale prices!
There is also a printable coupon for $.75 off 1 Keebler Granola fudge bars. I haven't seen or tried these yet, but they sound yummy!
I found both of these coupons under the zip code 90210 when I sorted by "Foods." You should be able to print two per computer.  Once your first set prints, go back to the main page.  Typically, after you've printed, the coupons will be on the very last page. Hurry and grab yours before they are gone!
*This post may contain affiliate links. Please refer to my disclosure policy for more information