Graveyard Mall has a deal on men's and women's sunglasses again!  Get 9 pairs of men's or women's branded sunglasses for just $13.99!  That's just $1.55 per pair!  I have purchased deals on sunglasses twice now through Graveyard Mall and I haven't been disappointed!  In Texas, sunglasses are a must have, but I find that I am constantly losing mine or my kids get ahold of them and break them.  For this price, I don't have to worry!  I always have a pair when I need one and I can keep them in various places including my car, purse, and pool bag!
Click on the links below to grab this deal for yourself:
Men's branded sunglasses (9 pairs) for $13.99
Women's Branded Sunglasses (9 pairs) for $13.99
Your set will include brands like Essencce Revlon, Panama Jack, Beauty Solutions, Extreme Optix, Route 66 and more!   They retail between $9.99 and $29.99 per pair!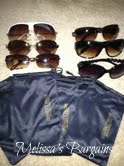 Here's what I got when I grabbed a similar deal earlier this summer:  this one only included 6 pairs instead of 9 and was $19.99, but this gives you an idea! 
NOTE:  You do have to pay shipping and handling, which is usually about $6.99.  It's still a great deal!

*This post may contain affiliate links. Please refer to my disclosure policy for more information