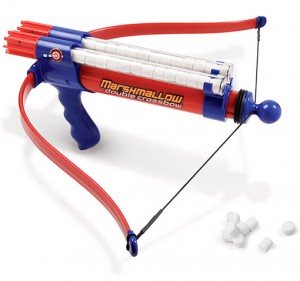 Here's a fun gift idea for big guys and little guys!  Get this Marshmallow Crossbow Shooter for just $14.99 shipped!  I got one of these for my husband for Christmas a few years ago and he and my son have had a lot of fun with it!  This same one is $31.29 on Amazon!
Food fights are fun with the Double Barrel Crossbow. Rapidly shoot up to 50 mini marshmallows at a with this double barrel crossbow which shoots 30-40 feet. Simply load up your mini marshmallows and fire away! It's the perfect way to pass the time indoors or outdoors with family and friends.
Click here to get yours–> Marshmallow Crossbow Shooter just $14.99 shipped
See more online deals here–> Online shopping deals
*This post may contain affiliate links. Please refer to my disclosure policy for more information.