You can read Kroger's coupon policy for the Texas/Louisiana market here–>Kroger Texas/Louisiana coupon policy
NOTE:  I recommend printing and keeping a copy of the coupon policy!
Don't forget to load your coupons to your Kroger card:
Cellfire
Kroger
P&G Esaver
Shortcuts
Upromise
**For more information about loadable coupons and how they work check out this post! Digital (loadable) coupons do not double and are one time use.  Also, you cannot "stack" digital and paper coupons.
If you need coupons to match up with these deals, don't forget to check out My Coupon Hunter!
**This ad is based on the Texas/Louisiana market.
Kroger is having a 50% off sale this week on a number of items.  I don't have pricing on items because they are not included in the ad.  My plan is to make a trip to my local store later today so I can give you a heads up on pricing!  Otherwise, it's kind of a slow week in my opinion (unless you need more All Laundry detergent!)
Here are some items to add to your stockpile this week: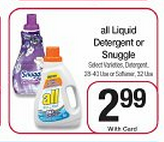 All laundry detergent – $2.99
$1/1 All laundry detergent printable coupon
$1/1 All Mighty pacs or liquid laundry detergent (24 loads+) – 6-3 RP
Final Price = $1.99 each after coupon!
Frigo Cheese Heads String Cheese – 50% off
$.40/1 Frigo Cheese Heads printable
Gatorade or G2 (32 oz) – $.79   
Kellogg's Pop Tarts (8 ct) – $1.98
$1/3 Kellogg's Pop Tarts – 5-13 RP
Final Price = $1.62 each after coupon (when you buy 3)
Kroger Water (24 pk, 16.9 ounce bottles) – $2.99
Lean Cuisine frozen entrees – 5/$11
$1/2 Lean Cuisine printable (when you sign up for the Savings Club membership free trial)
$1/4 Lean Cuisine – 4-29 SS
Final Price = as low as $1.70 each after coupon (depending on what coupons you have)
Nabisco Snack crackers (assorted varieties – Wheat Thins pictured in ad) – 2/$4
$1/2 Nabisco cookies or crackers printable
Final Price = $1.49 each after coupon (when you buy 2)
Ritz crackers – $1.99
$1/2 Nabisco cookies or crackers printable
Final Price = $1.49 each after coupon (when you buy 2)
Skinner pasta – 50% off
Skippy peanut butter – 2/$5
OTHER DEALS:
Driscoll's strawberries – 2/$3
Sweet red cherries – $2.99/lb
*This post may contain affiliate links. Please refer to my disclosure policy for more information