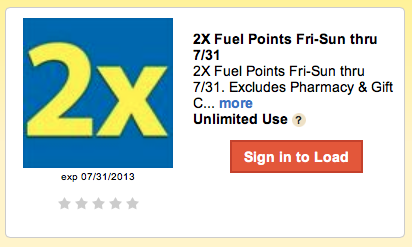 If you have a Kroger or Kroger affiliate store (such as Fred Meyer, King Soopers, Dillons, QFC, Fry's, Smith's, or Ralph's) in your area, right now you can score a Kroger Double Fuel Rewards Coupon!  The coupon is valid on weekends, Friday through Sunday, through July 31st!  You'll earn double fuel rewards on all of your grocery purchases on those days!  As an added bonus, Kroger figures your "balance" for fuel rewards on your total BEFORE manufacturer's coupons!
1.  Click on the link above to load the coupon to your rewards card.
2.  Get double fuel rewards points when you shop Friday-Sunday in July!
See all of my current Kroger posts here-> Kroger Deals