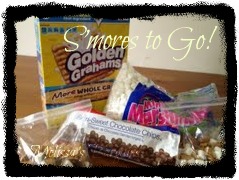 This summer, I've been experimenting with fun snack ideas for my kids.  I saw someone at the Cinemark $1 movies with these last week and had to try it myself!  These S'mores to Go snack packs are easy to make and perfect for an afternoon snack at home, when you're out run errands, or for summer road trips (I think I'll be packing some for our trip to Disney next month!).  Plus, your kids can help make them!
Kids Snack Idea: S'mores to Go!
These S'mores on the go snack bags are super fun and easy to make!
Ingredients
½ cup Golden Grahams cereal
Mini marshmallows
Chocolate chips (milk chocolate or semi-sweet)
Ziploc bags or containers
Instructions
Use a ½ cup measuring cup to scoop the cereal into ziploc bags. Add 1 hand full of mini marshmallows and a tablespoon of chocolate chips. Close the bag and shake to mix. It's that easy!
Here's our finished product:  it didn't last long!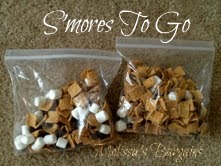 What fun snacks have you made with YOUR kids this summer?
*This post may contain affiliate links!  Please refer to my disclosure policy for additional information!