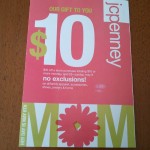 Yesterday when I went to my mailbox, I was thrilled to see this coupon for $10 off ANY $10 purchase at JC Penney! Be on the look-out.  I hope you get one too!  In case you don't get one, there is also a printable coupon for $10 off a purchase of $25 or more here.  The coupon is valid through 4/30/11.
The coupon is also valid online.  If you are shopping online, enter the code CANTBEAT at check-out.  Right now, you can get 10% cash back when you shop through Shop at Home. You will also get a $5 bonus when you sign up for Shop at Home for the first time here.  If you are not familiar with Shop at Home, check out this post here.
Don't miss out on any other future deals.  Make sure you sign up for JC Penney special offers here. I get lots of great money saving coupons (including the $10 off coupon I mention above) since I signed up.  I love being able to get free and cheap clothing for my family!

*This post may contain affiliate links. Please refer to my disclosure policy for more information