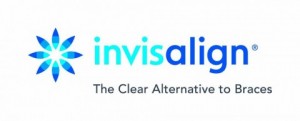 At my last visit to my dentist, she brought up the overcrowding among my bottom teeth and mentioned Invisalign.  I have to admit that I wasn't familiar with Invisalign at all, and mentioning the overcrowding and having work done on my teeth immediately took me back to my teen years when I wore braces for FOUR, yes, you read that right FOUR YEARS!  That of course led to memories of food stuck in my teeth, having to avoid certain foods, and green glow in the dark bands (what in the world was I thinking?) among other things.  I can honestly say I have NO positive memories of wearing braces and was thrilled that I finally got them taken off right before my senior pictures were taken.
I recently had the opportunity to attend a mini blogging conference sponsored by Invisalign and I have to admit admit I was convinced about the benefits of Invisalign not only for myself but also for my pre-teen daughter, who unfortunately inherited my genetics when it comes to teeth!  Those bulky braces don't have to be a "rite of passage" for teens anymore!
PROS FOR PARENTS:
The cost is comparable to regular braces
Appointment times are shorter (typically 15 minutes on average)
Get up to six FREE replacement aligners if one gets lost
It's easier to maintain oral hygiene because aligners can be easily removed for brushing and flossing and then replaced!
The Blue Dot Wear Indicator helps you to know if your teen has been wearing aligners regularly so you can monitor progress!
PROS FOR TEENS AND PRE-TEENS:
No brackets and metal wires!  Show off your smile as you receive treatment!
You can eat whatever you want (gum and gummy bears included!)
Minimal interference if you play an instrument or participate in contact sports
HOW IT WORKS
If you're not familiar with Invisalign, here's the scoop:
With Invisalign® you'll receive a custom-made series of aligners created just for you! These aligner trays are made of smooth plastic that's not readily visible and you just wear them over your teeth! There are no metal brackets to attach and no wires to tighten. You simply pop in a new set of aligners approximately every two weeks, until your treatment is complete!
Find out more about how Invisalign works here–> How Invisalign Works
It sounds too good to be true, right?  The results speak for themselves!  Check out the difference after just 14 months of treatment: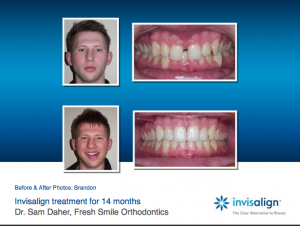 At the conference I attended, we had the opportunity to listen to a panel of teens Invisalign users and their parents.  I loved that the teens were all so confident, and they all talked about how easy it was to use their liners!  One mom shared that there are plenty of things to argue about  during the teen years, and said that this was one thing she and her daughter didn't have to argue about!
IS INVISALIGN RIGHT FOR YOU OR YOUR TEENS?

If you're wondering if Invisalign is right for you and your teens, you can take the free Invisalign Smile Assessment and find out!  It only takes a few minutes!  I took it and it said I was a great candidate!  I can't wait to schedule an appointment with a local Invisalign provider to find out if my daughter is also a candidate!  Even if your orthodontist or dentist says your child is not a candidate, make sure you get a second opinion!
DISCLOSURE:  This is a sponsored post written on behalf of Invisalign.  All opinions are 100% mine!