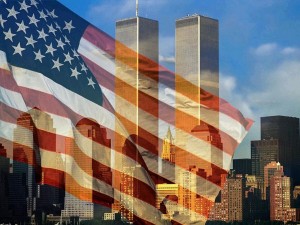 As I sit here this morning reflecting on the events of 9/11/2001 and trying to pull together my thoughts to write this post, I am overcome with emotion.
I remember that morning started out as a "perfect" morning.  I was living in Washington state at the time and the cooler temperatures were already kicking in.  I had gotten up early and had an awesome work-out. Because of that, though, I was running behind schedule and I had to rush when I got home to get ready for work.  I didn't have time to turn the news on the way I normally did in the mornings.  On the way to work, in an effort to maintain my adrenaline high, I had cranked up the stereo in my car with one of my favorite CDs and I was singing along, so no radio or news.
I remember that my cell phone started ringing.  I was in a long distance relationship at the time and it was the guy I was dating.  As I looked at the caller ID on my phone, I remember thinking it was such a pleasant surprise and just a continuation of that "perfect" morning.  I smiled as I answered the phone, but that changed quickly as he asked if I had seen the news and filled me in on the morning's events.
I was working in a middle school at the time as a school psychologist, and when I got there, they already had a TV on in the conference room across the hall from my office.  As I watched the images play over and over again, I stood there in disbelief.  It looked like something out of a movie and I couldn't believe that something like that could happen.  Not here.  Not to us.  The middle school years are rough ones on a "good" day, and I spent the day attempting to comfort, reassure, and console emotional middle schoolers even though I couldn't seem to find the words myself.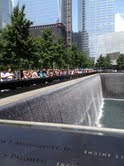 This summer while I was in New York City, I had the opportunity to visit the 9/11 Memorial.  The last time I was in New York City was shortly before 9/11 and the towers were still standing.  As I was sitting at the Memorial, I watched a man and his two children, who were probably about the same ages as my children walk toward where the North Tower once stood.  He wore a shirt bearing the name of a firefighter who was killed.  He ran his hands along the names, appearing to be searching for one and pointed a few things out to his children as they walked.  At one point, I watched as he was overcome with emotion, and suddenly I felt the same way.  I could see that all of this was incredibly real to him and sense his pain as he remembered a loved one or loved ones that he had lost that day.
As we go throughout our busy lives day, I hope that we can take a moment to remember.  To remember those who lost their lives that day.  To remember those first responders who made the ultimate sacrifice as they put others before them selves.  To remember how our nation rallied together and how people put political and religious differences aside.
May we NEVER FORGET.
*This post may contain affiliate links. Please refer to my disclosure policy for more information.