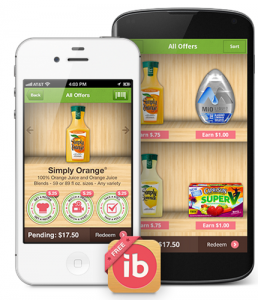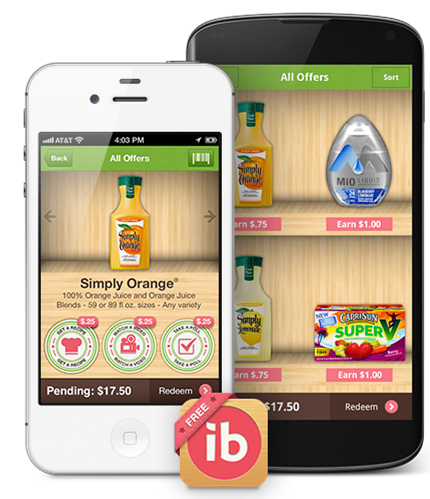 How would you like to earn cash back for purchasing groceries and personal care items at Target, CVS, Walgreens, and your local grocery stores?  If you haven't checked out Ibotta yet, you're missing out on earning cash back for purchasing your favorite products in store!  This app is available FREE for your iPhone and Android devices!  I just started using the app two weeks ago and quickly earned enough to cash out.  All you need is $5 in earnings to "cash out" – it's super easy!  Ibotta is also great because it's cash back, so you can still use paper coupons on your purchases to save even MORE money!
Click here to register–> Ibotta registration
Here's how it works:
1.  Download the app onto your Smartphone or mobile device (it works on iPhone 3Gs, 4, 4S, and 5, iPod Touch, iPad, and Android devices).  Sadly, this is only available for Smartphone users.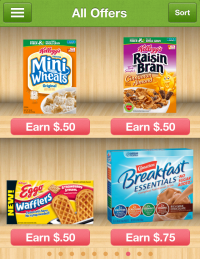 2.  Scroll through the available coupons and select the different tokens for each offer to add the coupons to your Ibotta account.  Here are some of the coupons that are currently available:
Capri Sun – $1 cash back
Speed Stick deodorant – $1 cash back
Diet Coke  – $.75 cash back
Dasani water – $.75 cash back
Kellogg's Frosted Mini Wheats – $.50 cash back
Kellogg's Raisin Bran – $.50 cash back
Eggo Waffles – $.50 cash back
Carnation Instant Breakfast – $.75 cash back
Kellogg's Pop Tarts – $.50 cash back
Kellogg's Rice Krispies Treats – $.50 cash back
3.  When you go shopping, purchase the items from your Ibotta list.  You can earn cash back for items purchased at CVS, Kroger stores, Publix, Safeway stores, Walmart, Target, and Walgreens.
4.  Take a photo of your receipt using your Smartphone and submit it right through the app.  You will receive cash back for your qualifying purchases!
5.  When your balance reaches $5+, you can transfer money to your Paypal account!
Click here for more printable coupons and match-ups–> Printable coupons 
*This post may contain affiliate links. Please refer to my disclosure policy for more information