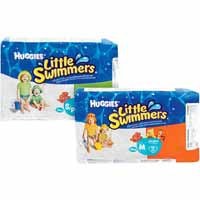 Huggies has a GREAT deal on Little Swimmers swim diapers this week!  You can get them for just $2.99 after coupons!
Here's the breakdown of the deal:
Huggies Little Swimmers swim diapers (10-12 ct) – $6.99
$2/1 Huggies Little Swimmers Walgreens coupon from the May coupon book (this is usually found with the ads at the front of the store)
$2/1 Huggies Little Swimmers – 5-15 SS
Final Price = $2.99 after coupons!
With a deal like this, you can bet that your stores will get cleared quickly.  If your store is out, it doesn't hurt to ask when they will be getting their next shipment.  You can also ask for a raincheck, but keep in mind that the Walgreens coupon expires on Saturday.
Make sure you check out the rest of my Walgreens deals for the week here.

This post is part of Becentsable's Grocery Gathering.

*This post may contain affiliate links. Please refer to my disclosure policy for more information